Singapore Airlines is so proud of its in-flight food that they've published an all-star cookbook to celebrate. Nick Harman flies Business Class to Singapore and back in just 48 hours to taste the food and to find out how it's all done. Jet lag what let jag?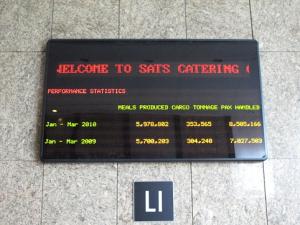 The omelette production line at the SATs centre at Singapore's Changi airport is a surreal site. On a constantly revolving 1.5 m diameter disc sit individual omelette pans, each on its own hot plate and each with its own chef. Egg mix lands in the first one and a chef adds herbs and spices before it revolves out of his reach to the next chef who stirs the mix. The next shapes the now thickening omelette, while the next flips it until, picture perfect, it's added to the growing collection behind. Each full box is then whipped away to another part of the production line, the empty pan is wiped out and regreased and the process starts it all starts again
The SATs is a giant food factory, but then it needs to be to produce over 50,000 in-flight meals a day. Scrupulously clean and with tight security, it has kitchens for all the major ethnic groups as well as dedicated vegetarian and Halal areas. Pride of the centre though are the kitchens for First Class and Business Class. Here the process is almost identical to a top kitchen in London – the meals are cooked as if about to be served and then swiftly blast-chilled to be ready for flight. The wide-ranging menus are devised by the ten members of the Singapore Airlines Culinary Panel, ten top international chefs including our own Gordon Ramsay.
Tony Chai Head Chef of SATS points out that this not simply a PR exercise; the meals the chefs devise are exactly what get served on board. 'We change nothing except the portion size to accommodate the practical demands,' he explains as he shows us around. 'These meals are the chefs' original creations, our teams have been to their kitchens all over the world to see the cooking done first hand and the chefs have come here to fine tune.'
Chefs under pressure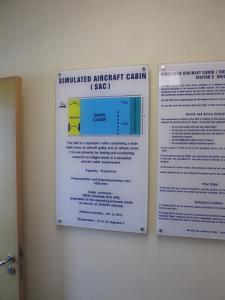 That tuning includes chefs eating their own food in a special pressurised room at SATS. Apart from the thick door and large porthole in the wall, this could be any office room but once the door is sealed the pressure inside is brought to the equivalent of 35,000 feet, the cruising altitude of most airliners. The temperature and humidity are also controlled, while the food is reheated inside the room by the same equipment found on the airplanes.
The result is to perfectly recreate the dining experience in the air, except perhaps for the kid behind kicking your seat, where pressurisation and dryness combine to dull the taste buds. This means seasoning has to be adjusted to compensate and only by eating in the test cabin can the chefs properly appreciate how much change is required. Seasoning that would be unacceptable on the ground is required in the air, how much though is down to the chef's own palate and his experience in the pressurised room.
The same is true for the wines and so one of SIA's wine consultants, Michael Hill- Smith, refines his short list in the test cabin to so he too can be confident that the wines he's choosing will work at 35,000 feet. It seems an extraordinary amount of effort and expense to go to for an in-flight meal, but Singapore Airlines is an extraordinary airline.
The biggest plane in the world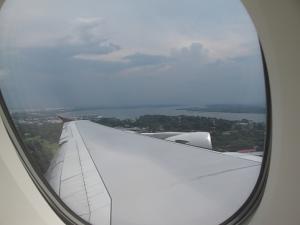 It's an attitude that pays off in customer satisfaction. My twelve-hour flight in the massive A380 was made literally more palatable by the fine food served throughout in both directions. From the full evening meal at 11pm to the full English breakfast served in my full-length bed as the A380 passed over Thailand on its final approach to Singapore, there was almost no sense of being on a plane at all.
In fact A380 doesn't do anything like a normal aircraft, it has two jetways to service its two decks so boarding is faster, with Business Class as easy as walking into a hotel reception. On take off it doesn't hurtle down the runway like Jeremy Clarkson with his teeth on fire, it ambles along for a bit in almost total silence and then casually lifts off as if falling upwards, the massive Rolls Royce engines delivering enormous thrust. In flight it's rather like being on large luxurious yacht; no rattles, no vibration, no turbulence, just the gentle swish of the Singapore Girls moving up the aisle to distribute the food to your luxury seat. The Business Class seats are in fact small leather sofas with footrests, plumped cushions, room to slide about and cubby holes for all your bits and bobs, as well as mains power for laptops and iPods. The in-flight entertainment is impressive, but if you want you can plug in a media stick and watch your own
The A380 is claimed to be 50% less noisy inside than a 747 and increased cabin pressure and oxygen apparently means less travel fatigue. My twelve hour flight was totally relaxing and without strain. In fact I bounded off the plane at the far end and hurtled out into the night to go street food eating with old friends despite now being 7 hours ahead of UK time
Haute cuisine 30,000 feet high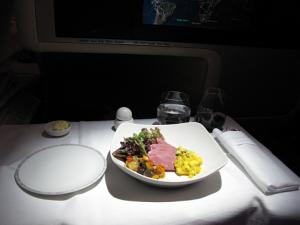 So what of the menu on this plane, that really should be called an Airliner not a prosaic Airbus? In a word, luxurious. Your table is laid with fresh linen, the large menu is placed in your hand, a chilled glass of Heidseick Brut Réserve champagne is within reach. On the way out dinner was a starter salad of mesclun with smoked duck breast and then my choice of braised beef short rib with boulangere potatoes, chanterelle, mushrooms and caramelised shallots. Very good indeed, apart from the shallots which were a bit undercooked. A recipe I think from our own Gordon Ramsay. Also on offer was stir-fried pork with noodles an Indian fish curry and Chicken Parmigiana. It ends with coffee ice cream and a plate of varied cheeses. The wine, a Bordeaux, is perfect and proves the worth of the pressure testing on the ground.
Everything is served on bespoke china and presentation is first class in Business Class. All the cabin staff are shown how the dish should look by photos and can take training days at SATs where they join the cooking classes. Apparently these are so popular there's now a long waiting list of people waiting to take them.
Even breakfast comes as if in a boutique hotel. The LED mood lighting in the cabin subtly changes to a daylight feel and as you stir in your full-length bed fresh orange juice arrives. My choice of Full English had all a man could want after a strenuous 8 hours watching movies on a 17"screen. There's sausage, egg, potato cake and all the trimmings plus a nice cup of tea of your choice. With the porthole blinds now open and blue skies as far as the eye could see the A380 swung into the descent toward Singapore and its home base
Back to reality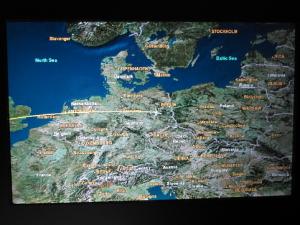 48 hours later after a gala dinner to launch Above and Beyond, a  sumptuos collection of recipes from the Singapore Airlines International Culinary Panel, where the renowned  chefs cooked for 900 people, as well as the president of Singapore, I repeated the whole thing in reverse. The Business Cabin still made me feel rather special, the food and drink were every bit as good. I even peeked downstairs into Economy where the meals I'd seen prepared a few hours earlier were being served and it was very impressive indeed for Economy Class, or indeed any class.
Back at Heathrow, fed, watered and still remarkably unfatigued or stressed after all that flying, I got on a hot sweaty tube and wished I was back in the air again. The only problem with Singapore Airlines Business Class is that you never want to travel any other way again.
You can read more about Above and Beyond,  a collection of recipes from the Singapore Airlines International Culinary Panel here. It's a book that reflects the remarkable care and quality of SIA's in-flight food and profits from sales of the book will go to the Singapore Community Chest, a very worthy charity.
We have a selection of the recipes here.