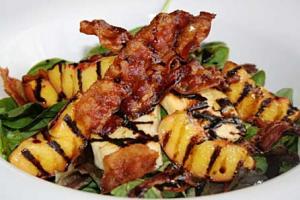 Summer is here and the sun is shining and salads are a great way to have a hearty meal that is still light and healthy. Salad is a word many people fear, but limp lettuce and soggy tomatoes needn't be your only option. You can combine cheese, meat and fish with both vegetables and fruit and come up with something splendid to suit your own tastes. When you are cooking for yourself, there really is no right or wrong, just do what feels right for you.
Fruit is sweet and plentiful during the summer months and being the kind of ying and yang person that I am, wherever there is sweet, I tend to crave salt to go with it. This week's recipe is a perfect example of bringing salt and sweet together through a simple fusion of fruit, cheese and smoked pancetta.
Serves 2
Ingredients
2 large ripe peaches, washed and stoned then halved and cut into 6 equal segments
8 thin slices of pancetta (or smoked streaky bacon if you prefer)
1 block of halloumi cheese, sliced lengthways into 6 slices
1 bag of your favourite salad leaves
Top quality balsamic vinegar (vintage is best, but whatever you are happy with is fine)
Olive oil
Method
If you have a griddle pan, then great but if not, use 2 heavy bottomed frying pans instead. Preheat the first pan over a high heat (electric) or medium-high heat (gas) preheat and rub your peach slices with a little olive oil and sear each side for about 5 minutes at a time, then set the slices aside. In the other pan on the highest heat possible, lay your pancetta slices down and fry them until crisp and brown on both sides (this happens pretty quickly, so be warned!) Then in the pan you used to sear your peaches, add a little olive oil and brown your halloumi slices for about 6-8 minutes each side until they are nicely browned, but not burnt.
Remove all ingredients from pans and set aside.
In a large bowl, place your washed salad leaves and drizzle a little olive oil onto them along with a good drizzle of balsamic vinegar and using your hands give it a quick and gentle mix. Serve a generous portion of leaves on each plate and take 2 slices of pancetta and crumble onto the leaves, add your peaches, halloumi and then top with the remaining slices of crispy pancetta. Drizzle a little extra olive balsamic vinegar on top if desired! A simple summer supper that can't be beat! If you don't like halloumi, you can also just tear some buffalo mozzarella into the salad instead and avoid having to cook any cheese at all. It goes just as well!