For me, Singapore conjures up an image of sitting in that stalwart of luxury and colonial design, Raffles Hotel, sipping a Singapore Sling. Or, if I think more contemporarily, it's the Marina Bay Sands Hotel that springs to mind – but perhaps that's from being coerced into watching too many Formula One races… But when it comes to the food, while I can rattle off dishes associated with various parts of South East Asia, no Singaporean dishes spring readily to mind.
Perhaps the multicultural heritage of Singapore makes it challenging to isolate a "typical" dish. You'll find everything from Chinese, Malaysian and Peranakan or Nyonya (a fusion of Malay and Indonesian) food. But while my culinary knowledge falls down here, something I do remember about Singapore is its street food.
The food court we chose when were there was packed with people and food – an array of dishes unfamiliar and new, so that choosing was hit and miss. I can't remember the dish, but it was definitely more on the "miss" spectrum. But that was 14 years ago; I'd hope to do better now. Not least because I could look for some of the dishes that inspired Peter Lloyd – executive chef of Spice Market in London's W Hotel – to produce the new Singapore Street Food Tasting Menu.
The restaurant, with its subdued lighting and wall of spices, makes for a calming space near bustling Leicester Square. Its main menu covers South East Asian cuisines, and now, having visited the World Street Food Congress in Singapore this year, Peter has taken the flavours and ingredients of traditional hawker food found there and given it his fine dining twist.
The ten-course menu kicks off with the Black Pepper Shrimp, a contemporary take on traditional black pepper crab. The balance of sweet, sour, salt, savoury and umami flavours are key to this menu and, in this case, the spiciness of the black pepper is balanced by the sweetness of the sun-dried pineapple, while the jicama (part of the potato family that can be eaten raw and tastes a bit like a tart apple) adds lovely crunch.
Beef Satay, Pickled Vegetables and a Rice Cake followed, and, as the dishes kept coming, I realised that many of them were familiar. The Scallop, Shrimp and Halibut Nyonya Laksa with Coconut Foam (what's not to like?), Hainanese Chicken & Rice and Vegetable Nasi Goreng were all recognisable recipes that looked like they had been given a makeover.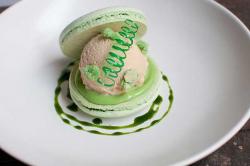 Peter explained that the Chilli Crab was made with soft shell crabs instead of the usual mud crabs, and they were served in a crisp, light coating on a tomatoey sauce with a fried "bun".  A little bite of everything created a delicious fusion of flavours and textures in the mouth.
One dish that had me slightly alarmed, though, was the Wok Fried Carrot Cake with Chilli Bean Sauce. If I'm going to indulge, I prefer mine with a cream cheese icing… However, it transpires that the Singaporean version of carrot cake has nothing to do with either carrots or cake. It is similar to an omelette and is made with daikon (or white radish). I think if you like the texture of tofu, this one is for you. And if you like it hot, Roasted Sambal Skate Wing will be a hit.
Although not a fan of desserts, I was excited to taste those on the menu, especially the Durian Ice Cream. While I have seen durian fruit (along with the notices banning it on public transport!), I've never eaten it – or smelt the notorious stench. Chef described the flesh as very soft and arranged in "pockets" and confirmed that, yes, the pong factor did live up to its notoriety.
Served in a mini Chinese takeaway carton, it arrived sealed – and with a flick of the wrist, like Pandora's box, it was opened and started emitting the smell, never to be contained again! The aroma was sweet yet unpleasant, while the taste was difficult to identify; it reminded me of really ripe guavas… and something a little fetid. Intrigued, I found myself dipping in to it again and again, trying to decipher the flavours. The table next to us, however, simply asked for it to be replaced with another ice cream!
If that's one to divide opinions, the macaron wasn't far behind. Peter explained how some Singapore settlers had worked on British ships where they ate bread and jam. They then adapted this idea to local tastes, with western jam being replaced with kaya, or coconut jam, made from coconut milk, eggs, pandan and sugar, and served it with crackers – often with boiled eggs – for breakfast.
Peter has taken inspiration from this for his Kaya Jam & Pandan Macaron with Soya Caramel Ice Cream. The ice cream was a creamy, sweet and salty mouthful, and I couldn't get enough of the soy caramel on the plate – a sticky, savoury addition – although my other half found it a little weird. But then, I guess there's no accounting for taste, is there?
The Singapore Street Food menu is available from May to August and costs £48 per person. spicemarketlondon.co.uk