Merci Marie, Fitzroy House, Abbot Street, E8 3DP
Hoping to make the cut Tom heads to a butchery master class at Merci Marie.

The truth is people don't like reading positive reviews. Or at least they prefer negative ones. A Jeremy Kyle audience don't want Shane to be the father, they want drama, conflict and friction. They want Shane to sell drugs and have a terrible relationship with his mum.
No one ran across school following the chants of, "hug, hug, hug."
And so it's with the knowledge that many may stop reading at this point that I admit, on Saturday I had the best lunch I have had in a long, long time.
It wasn't just because of the food served, or the restaurant décor, or the instagramible presentation, it was more than that. It was a meal that reminded me what sitting down to eat should be about, and what I think it needs to be about in the future.
Merci Marie is a small, simple little restaurant hidden in the top corner of an old shoe factory in Dalston. It was opened by a French chef called Marie Gonfond in 2013 and serves simple European food to those in the know. This year Marie has teamed up with Andrew Sharp, a butcher with a serious CV, to run butchery master classes on Saturdays.
We went along at around 11am and were greeted with coffee and cupcakes before having a chat with some of the other diners. There was around eight of us in total, all from different places, all from different backgrounds, but all interested in learning more about butchery and what this quirky little spot had to offer.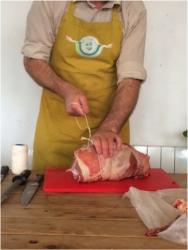 After a few social sips, Andrew called us around a table, on which lay various parts of a lamb, before he began explaining what he was about to do, how and why. From starting in a butchers when he was 13, to trading on Borough Market, to advising Prince Charles on mutton, to numerous TV and radio appearances, as far as the butchery world goes Andrew has clearly been there, done it and probably cut it up. Therefore as he whipped out bones, removed excess fat and answered any questions fired at him he really held everyone's interest. His friendly northern tones also set a great mood for the afternoon.
After Andrew had butterflied the lamb leg, removed various cuts and French trimmed the rack it was all whipped over to the kitchen where Marie got to work.
Then we sat down for lunch. Together. A group of strangers. And talked. In London.
Loaves of bread were shared out and plates of salad and vegetables were laid down the table. Roast cauliflower served with pomegranate seeds, perfectly crunchy asparagus, broccoli, radish, roasted tomatoes, sautéed potatoes. The lamb then reappeared; plate after plate mainly cooked beautifully medium rare passed around, discussed, enjoyed. A haggis arrived, delicious with a fantastic balance of meatiness from the heart and liver, stodginess from the oatmeal and spices. Everything simple, everything beautiful.
Andrew continued to explain cuts and why good quality meat doesn't necessarily need seasoning. Marie sat at the table too and ate with us, making sure no one's glass was empty, that everyone had what they needed.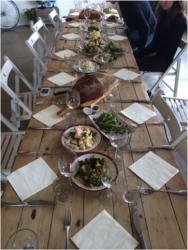 And we ate. We spoke, and we ate, and the afternoon very quickly disappeared.
I stumbled out of the warehouse, squinting in the sun, at about 4pm that afternoon with a grin on my face.
Eating out can so often be about clever restaurant concepts, novel interiors and over-complicated cocktails but that lunch reminded me of what it should be about. Enjoying and understanding ingredients, sharing and feeling like you've actually been part of something, not just being filed onto a table of two, served and shipped out as quickly as possible.
Drama may be more fun to watch, but a relaxing, social, delicious lunch in a warehouse in east London is much more fun to be part of.
Merci Marie and Andrew Sharp will be running more butchery master classes in the coming months. Keep an eye on their twitter and websites for updates.
Staying in the west why not see what Nik thought of The Richmond.
Or, if you're having a night in, have a peek at this BBQ chicken recipe from Alex James.