Local resident Tom Leahy takes a taste of a refurbished pub in his manor.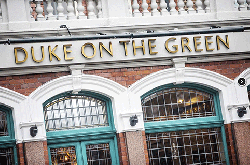 Those us who are lucky enough (?) to be local to Parson's Green and in regular need of a drink are spoilt for choice. With three pubs, each at the point of the triangle and guarding all approaches to the Green, whichever way you stumble across this plummy part of SW6, you won't go thirsty.
In north corner, there is the White Horse, a.k.a. The Sloaney Pony, my local of choice. Down at the south-west we have the Aragon House, which, back in my salad days, was the pit stop of choice for a bit of'pre-loading', before, braying away, my chums and I would jump on the 22 bus up the road to either Crazy Larry's or Embargos (whichever had the shorter queue). Finally, we have the Duke on the Green, a Young's pub housed in a beautiful grade II listed Victorian building just 200 yards up the New King's Road from Aragon House.
The Duke has been recently refurbished, with a new, extended dining room, some flashy light fittings and potentially other touches that passed me by (the main pub didn't look dramatically altered from previous trips). The dining room, where we were headed for dinner, has been split into a summery, pastelly room on one side, reminiscent of a Cornish beach hut, and, behind some pillars, a more serious section with dark wood and a couple of banquettes.
The menu features the usual pub stalwarts – burger, pie, fish and chips – as well as a couple of more aspirational choices – Dorset crab, spring lamb croquettes, braised short ribs and a lamb wellington. Jack of all trades, master of none? We shall see.
The crab came in two little circular splodges, the white meat on one side, brown on the other, and came dressed with fennel, lemon confit and pickled pear. All perfectly nice in a soft, spring-like kind of way and a cut above the usual pub offering, but it needed something else to add a bit of interest. Even a couple of slices of brown, buttered toast would have done the trick.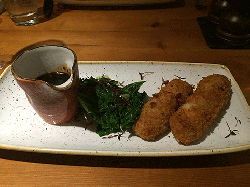 The lamb croquettes fell into the trap that all croquettes of my acquaintance have suffered from: too much mashed potato and not enough lamb. If it is a lamb croquette it should taste of lamb and not tuber. The whole thing was almost saved by a sticky and rich redcurrant jus (read gravy for those of us without Gallic pretensions) that was so good I was tempted to drink it straight from the jug.
After starters, more lamb arrived in the form of a Wellington; not a piece of cooking for the faint hearted.  The lamb that emerged from slightly soggy pasty case was pink in the middle, which is a relative triumph. However, on the outside it was an unappetising grey, which suggested it hadn't been browned sufficiently before the pastry applied. Minor gripes aside, with more of the redcurrant gravy, some pea and mint puree and a few spears of asparagus, it made for a tasty dish.
Unfortunately, the same could not be said for the date's beef cheek and bone marrow pie. On arrival it was clear with some serious structural problems, we debated whether it could even be called a pie. A bowl of watery brown gravy, the texture of semi-skimmed milk, topped by a limp square of puff pastry does not a pie make. Hidden deep within the gravy were the chunks of tender beef cheek, but they didn't make up for other, more serious faults.
As a pretty competent home cook, I would not have served it to my friends, so paying guests are bound to be disappointed. The date, who takes her food even more seriously than I, raged about the injustice of my lamb versus her pie. So much so, I had stuff some lamb into her mouth to shut her up.
Dessert was a rather odd affair: roast pineapple with a brown sugar crème and peanut brittle sounds like it could be delicious, but it wasn't. It came as a sort of sundae in a large glass, but was freezing cold and had obviously come straight from the fridge. This didn't do it any favours and after a couple of spoons the whole lot dissolved into a brown sludge that we didn't manage to finish.
A curate's egg then. Despite the issues with the food, the service was friendly and very amenable. Maybe the kitchen just had an off night – the pie certainly did. But, with a £22 bottle of wine and a couple of drinks before dinner, our bill plus service charge was floating around the three figure mark. Rather too much for what was had, and despite the two good dishes, I am not sure I would risk my cash again in a hurry.