I grew up around Kenwoods. Well, one Kenwood in particular, my mother's ancient, 80s version in a chunky, blocky brown that she'd been making cakes in for years. I'll always remember that violently loud growl it made when you switched it onto full pelt and the angry wobbling of the bowl as it battered the butter and sugar together for one of her impossibly fluffy victoria sponges. It was only when I moved to London and my mother's Kenwood stayed behind with her that I realised how bereft I was without my own do-it-all mixer, so I was delighted when culinary stalwarts themselves offered up their latest version, the Kenwood MultiOne – an all-in-one solution for all my baking and food prep needs.

Calling anything all-in-one is a risky claim, and I was sceptical; scoffing at the notion that a single machine could help with ALL my cooking needs, I mean yes, it could slice, but could it spiralise? Yes, it can whisk but can it also blend?
When the all singing, all dancing machine arrived my first thought was what a ridiculously massive box…it was so comedically big I climbed in it to see if I could and I fit with room to spare. My second thought was that you'd need a fair amount of kitchen space to store this machine and all its accoutrements in its arrival format, and there are a lot of accoutrements, from meat grinders to reinforced glass blenders to a variety of slicing and dicing discs.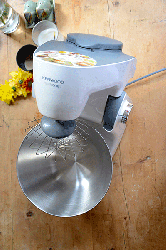 I'm one of those frustrating, bullheaded cooks who refuses to read the manual and prefers to rely on their own common sense with machines, but this is one that I wholeheartedly recommend you consult the booklet for to get the most out of it.
When out of the box, this sleek, multi-tasking machine is actually rather compact, despite it's many of many parts. Since it's a mixer of many accomplishments, it's best address them all individually:
The meat grinder
this was the attachment that I was the most excited to use and the one i got the most irritated putting together. My visions of crafting my own steak burgers and freshly minced spag bol faded quite quickly after I spent ten minutes trying to align the main head attachment to the grinder, which can only be fixed at one particular angle. Post exasperation, however, this grinder works like a dream and reduced my cooked and raw steak into smooth meaty morsels in a matter of minutes…although the sight of raw meat being squeezed pink and mushy through the metal attachment doesn't look the most appealing.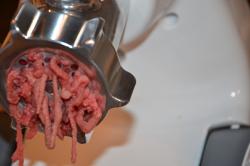 The juicer and citrus press
The round, rotating meshed juicer attachment on the Multione is extremely efficient and powerful. It was able to blitz and crush everything from soft fruits like pineapple and berries to hard vegetables like carrots and root ginger in a matter of minutes and, more importantly, was surprisingly easy to dismantle and clean – unlike the juicer I had at university, which had nooks and crannies that seemed designed to store old pieces of discarded fruit. The addition of a citrus press is a lovely touch, however, I'm not sure I would go to the trouble of attaching the press unless I was making a lot of juice. For one person it's far easier to utilise a traditional, handheld orange or lemon juicer and the result isn't much different.
The mixer
The main machine consists of a 4.3L mixing bowl with the three, standard mixing tools – a K-beater, whisk and dough hook as well as a splash guard, pulse function, six speed settings and the nifty addition of suction cups on the base so that the machine stays fixed to your counter, even when the highest settings are selected.
I'm not sure if it was the untouched cleanliness of the metal bowl of the well-designed whisk, but this MultiOne produced some of the lightest, fluffiest meringues I've ever made. I've always been sniffy about using dough hooks, preferring the more hands on method when it comes to bread making, but I'll admit that this mixer whipped up a batch of dough in a fraction of the time it takes me and I couldn't tell any difference between a hand mixed loaf and the machine version.
However, I did find that the placement of the pulse setting on the dial caused me some irritation. Instead of it being the next setting after six (the highest speed) it's behind zero, meaning that I kept unintentionally pulsing every time I tried to turn the beaters off.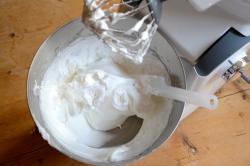 The compact food processor, which comes as part of the MultiOne, has an in-bowl drive and a pulse function, as well as a range of interchangeable discs to allow you to slice, shred, grate and zest your ingredients at lightning speed.
The blender
This heavy, glass blender attachment is strong and thick glass, which means it can withstand ice and hard fruit and veg with ease. I put it through its paces with carrots and ice cubes and broccoli as well as mushy fruit like avocado and melon and it blitzed all of the above with ease, giving the final smoothies and soups an almost Nutribullet level of smoothness.
The slicer
This Kenwood comes with a range of interchangeable discs to allow you to slice, shred, grate and zest. I can't stress enough how sharp these blades really are, I know because I managed to slice my finger on of them as I was fitting the blades! When they are fixed in, these graded slicing discs are unstoppable and shredded onions and cucumber in an instant. Perfect for creating easy julienne vegetables and grating large quantities for coleslaw. I do, however, wonder how sharp they would stay over repeated use and how you'd get them sharpened.
While it might be as aesthetically pleasing as its more reto counterparts on the market like the KitchenAid, this kenwood is an easy solution for nearly all of your kitchen needs and, with its sleek, efficient design and standout blender and grinder attachments, I'd say it's definitely worth making some extra space in your kitchen cupboard for this mixer.