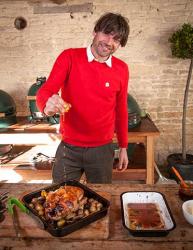 Red Tractor is teaming up with farmer, musician and food writer Alex James in the UK's biggest ever BBQ promotion. Running from 27th April to the 14th June, the promotion celebrates the great quality seasonal food that UK farmers produce, which is now available for the start of the summer to BBQ.
Alex, who once showed this writer how to make a simple cheese and then was kind enough to ponce one my cigarettes thus giving me a story to repeatedly bore people with ever since, says; 
 "I can't wait to fire up the grill and get everyone over for some fine al fresco British grub. There's no better way to showcase the quality food produced in the UK – rain or shine." 
Here are his 'bass-ic"Top 10 Tips for a great chicken BBQ, Hah! Comedy gold.
The Red Tractor BBQ promotion will feature on packs of poultry, meat, vegetables and breads from 27th April to 14th June 2015. To take part visit www.redtractor.org.uk – 150 winners will win VIP tickets to a BBQ party at Alex James' farm. There are 100s of other prizes, including 49 days of social media and a fun make your own burger app, taking place at www.facebook.com/redtractorfood and via the Twitter feed (@RedTractorFood and #redtractorbbq).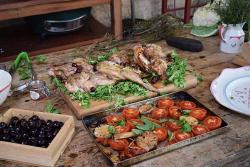 ALEX JAMES BBQ'ED TUSCAN CHICKEN WITH CHERRIES
1 Large Chicken should serve 3-4!
•             Large chicken, about 4kg in weight
•             Salt
•             Extra virgin rapeseed oil
•             2-3 lemons
•             2 teaspoons mustard
•             Black pepper
•             2-3 cloves garlic, roughly chopped
•             Small bunch chives, roughly chopped
•             Bunch fresh rosemary
Summer'greens' – mixed salad leaves
Small jar of cherries soaked in Somerset brandy or similar
HOW IT'S DONE:
Take the chicken and place on a chopping board – breast bone upwards.  Using a sharp knife cut through the breast bone and open the chicken, turn over and flatten. 
Using a rolling pin or something heavy, bash to flatten out the chicken – this helps to cook the chicken quickly & evenly, and to tenderise the bird.
Sprinkle with salt and place on a preheated, covered (kettle-style) BBQ –  Breast side down to start with for about 20 minutes, turn over and cook for a further 20 minutes  or until cooked through and juices are running clear.
Make a dressing –'Use twice oil to acid (lemon juice)'. Mix together a good glug of oil and the juice from fresh lemons.  Add mustard, black pepper, garlic and chives.
'Mix and Taste' – adjust to suit your personal taste
Check the chicken and turnover – take the rosemary bunch and'bash' the chicken to impart the rosemary oils and flavour.
Place large handfuls of summer leaves onto the serving board, place the cooked chicken on top – generously spoon over the dressing and finished off scattered with cherries soaked in your favourite liquor & tomatoes roasted with garlic & rapeseed oil.
See Alex BBQ  chicken in living colour!{YOUTUBE:APaN7j_atoU}