While some parts of Spain coudn't be a bigger magnet for foodies, San Sebastian anyone? Other parts undeservedly languish.Anita Pati flies out to see why we should make a bit more of Malaga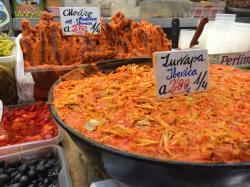 There was a party in the sky. The plane to Malaga was full of stags and Team Bride packs of women whose bronze skins glittered in the approaching Iberian sun. There was no question of what booze to drink but what kind of Spanish tourist food would they eat once out there?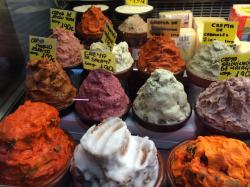 This no doubt has been plaguing those Costa Del Sol tourism chiefs who would like to rebrand the sunny strip as a gastronomical delight. Cue the Malaga Gastronomical Festival, now in its second year. Running from 1-10 May, the festival stirs the sleepy city into action, hosting tastings, events, debates and cookery demonstrations in a bid to "promote high-quality gastronomy tourism". And unlike in the UK where it's the foodie elite that frequent festivals, this was teeming with families, couples and friendly old ladies checking out what the newbies could offer.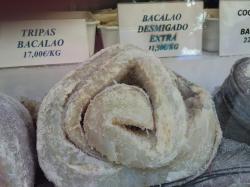 If you look beyond the paella and tapas mainstays on the thoroughfares of this pink-marbled city, there are some exciting new ventures springing up. Malaga is becoming one of destinations in Southern Spain that experimental new chefs are pitching up at. One of these is Andy Gould from Nottingham, a former Masterchef contestant who is capitalising on the town's trend towards pan-Asian fusion – OK, done in the UK but still a novelty here.
Costa del Sol – not just omelette and chips
We were shown two contrasts. Los Manueles on the beach at Torrelominos isa standard tourist's cafe , plain white furnishings, with open windows onto some beautiful views – this being pre-tourist season the beaches are not yet blighted with the unedifying sight of cooking, livery flesh. If you choose right at places like this you can hit on winners.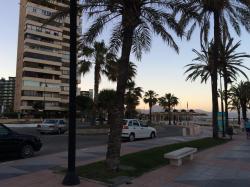 So a starter of tiny soft cockles that we teased out of their violet butterfly shells waslovely, as were sardines grilled in rock salt. I wasn't so impressed by the stock puddings straight out of the freezer – a chilled creme Catalanwas goo, nor the battered "white fish" – couldn't find out what it was.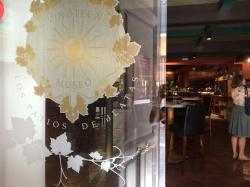 At the other end of the scale is Los Patios de Beatas – Patio of the Blessed. Its owner, sommelier Julian Sanjuan,  wishes more of the tourists and ex-pats would visit his fine dining winery.
"We don't use techniques like foams," says Sanjuan, "we use elaboration". This means they will confit and preserve but without the frippery, he says.
Sanjuan is chatty and hospitable – a good host full of facts such as how there are 30 types of baccalao (saltfish) in Spain or that 90% of Spain's cava comes from Catalonia. Malaga is proud of its tradition of muscat sweet wines. It also produces twocavas in Malaga Province, and the muscatel cava we tasted was honeyed with gentle carbonation.
Large groups of local businessmen relax at Los Patios de Beatas on a Friday afternoon. But Sanjuan managed to snaffle one Brit, Gould, who's married a local woman and settled here. We tried one of his tasting menus that rates at around 35euros.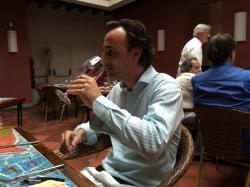 Chris isn't shy of pan-Asian fusion – more of a novelty here than in the UK – and his dishes show this. I liked seared Atlantic tuna on cabbage in a soya coulis as well as the steak tartare with Szhezuan pepper and capers. The black cod with violet potato crisps was lovely to look at and done well but didn't need the strong coconut sauce it sat in – but Gould is free here to experiment which is much more interesting than standard tourist fare.
Other countries creep in too: the Iberian baby goat on cous cous and apricot is influenced by Morocco, "just over the water," says Gould. The wines, mainly from the Muscat or Pedro Ximenez grapes, were satisfying and well chosen when dish-paired. A Creation Conrad Soleon 2009 red from nearby Ronda was rich velvet with our confit beef patty in breadcrumbs. And a marmaladey, 10-year-old Moscatel Trajinero – which he wouldn't allow us to call jerez – slicked away robust meaty flavours with its brusque sweetness.
Eating in this dark wood, terracotta and cream courtyard style in a former 17th century mansion was a welcome retreat from the midday heat outside.
Arte de cozina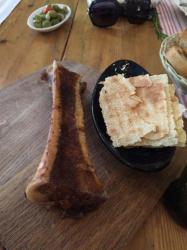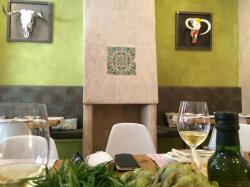 Another challenger to the Malaga stalwarts is Arte de Cozina. This a hip and rustic bar/restaurant serving gastro-art-led food but at reasonable prices. I particularly loved one starter where we shaved out marrow from a beef bone and deposited the gelatinous gem onto crispbread with some lovely prawn tartare. Yes, sounds icky but tastes all fat, salt and unctuous.
Traditional gastronomi Malaga
But if you think you get all the fancy stuff in the UK, head to La Recova for a taste of a traditional tavern. It's all curious artefacts for sale as well as being a tapas bar. The place may succumb a little to the tourist expectations of a traditional tavern but it's not yet cliche and is very pleasant.
We had a few tapas including the revived zurrapa from the Ronda region – a heady, lardy meat creme of pork loin, garlic, lard, vinegar, garlic and paprika on some little piquitos or bread sticks. I couldn't eat too much of it but it's saved by the paprika and beats margarine. We paired this with a local sweet Moscatel of course.The tapas cost a couple of euros here and it's a good little pitstop.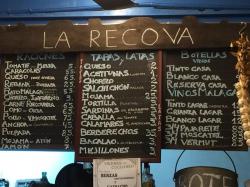 The Malagan foodies are trying to revive simple dishes such as this, as the knowledge has been lost among younger generations, they say. Pora is an old recipe of thick, bready and cold soup, a bit like gazpacho and comes from one of Malaga's villages. I tried the white one made from stale bread, garlic, olive oil,vinegar which was delicious – slightly creamy with garlic but not overindulgent: more akin to a basic staple.
Ultramarinos and the old food market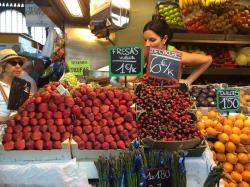 Spain Food Sherpas – a new, local venture – give a good walking tour of the city's gastronomic heritage. Simone our guide showed us the Atarazanas food market (Mon-Sat, 8am-2pm) frequented by locals bustling for a bargain. It's set in a beautiful 14th century building in an old shipyard. Here there were fascinating dollops of meat cremes in all colours from violent cerise to flaming orange. Meat cremes are just that – with an (un)healthy basting of lard to slather onto bread.
As well as tasting some incredible roasted almonds and figs, I had loquats (nísperos) for the first time which are an orange-soaked cross between a peach and an apricot. It's a brilliant place to get a sense of Andalucia's own produce, much of it tropical, plus sneak some crafty samples.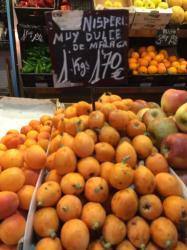 There still are about five or six "ultramarinos" – independent, family-owned delicatessan fishmongers – in Malaga city. Bacalao – salted cod – in their cream salty tyre rolls are a staple. We visited Juan de Dios Barba, opened in 1932, whose salted cod can be used in an ensalada malagueña, a potato salad with onions, orange and olives.
Visiting Malaga on whistlestop tour showed me another side to my preconceptions – it's not just a tacky '70s resort, worn out and crinkly-tanned. The food festival has plans to expand – the display area was small this year, although packed, but there was plenty to fill it and more vim than Team Bride before the inevitable (drunken) fall.
SPANISH TOURIST OFFICEi