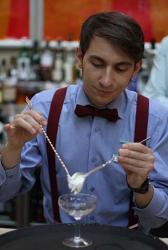 Sipsmith has the proud honour of being the first copper distillery for nearly two centuries to launch in London, and has single-handedly revived small-batch, artisan gin production.  This week they partner with family ice cream crafters Jude's to create a frozen delight just in time for summer.. if it actually comes that is.
Jude's gin and tonic ice cream is fresh and light with the unmistakable tang of gin, whilst being deliciously creamy and still feeling indulgent. To enjoy it at its best, I'd advise going for a'Sipsmith and Jude's Gin Alexander' – just grab a shaker, 40ml of the original Sipsmith London Dry and a scoop of the gin ice cream and shake away until the ice cream melts. Pour into a coupe glass and you'll be left with a light, frothy and creamy gin treat that's perfect for a sunny balcony at the end of the day – which incidentally is where I just enjoyed one.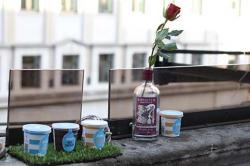 Sam Galsworthy, Sipsmith co-founder comments:'This is about where summer meets gin. We're big fans of Jude's, both our London distillery and their dairy champion crafting timeless classics which are made to be savoured'.
Where summer meets gin.. sounds good to me.
Jude's Sipsmith Gin and Tonic Ice Cream is available in 120ml pots for £2.95 in Selfridges from 20th May, and through Ocado from 1 June.