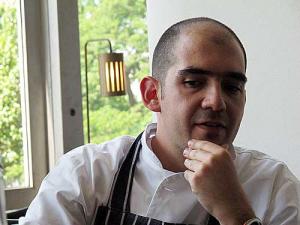 ' We have so much to show, I can only touch the surface with my menus here," says José Barattino talking over coffee in Skylon restaurant about the food of his native Brazil. This acclaimed chef is on his first ever visit to Britain, as part of the Brazilian Festival on Southbank, and he has created dishes for the Skylon restaurant that he hopes will shift perceptions of Brazilian food as being one of mostly meat.
' Well sure, we do love our meat in Brazil," he agrees, sounding a bit like the lion in Creature Comforts. 'We have a great meat heritage, mostly in the south, in fact we eat meat every day in Brazil but we have a lot of fish and spices and I am working to widen the cuisine in Brazil. At the Emiliano Hotel in San Paulo where I am Head Chef we have a partnership with a farm and we're discovering new or forgotten ingredients to make new recipes, often surprising the farmers themselves."
José has created dishes for each of the three parts of Skylon – fingerfood for the Bar plus dishes for the Grill and the Restaurant. ' I have made for the bar typical Brazilian snack food, because in Brazil after work we like to go for a beer in the Botecos and nibble on food. In the grill though I've gone for traditional Brazilian dishes, chef Helena Puolakka here has kindly taken dishes off her menu so that I can slot some of mine in. In the restaurant I have been given one starter, one main and one dessert and there I am showcasing more modern Brazilian dishes, ones that use traditional ingredients but with a twist."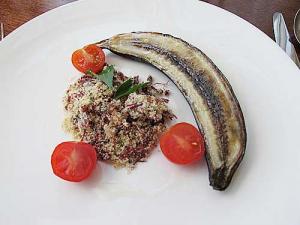 He has sent out a selection for us to try and two ingredients stand out straightaway; manioc flour and dende oil. Manioc flour is an ingredient that straddles all of Brazil, rich and poor alike and is made from a root rather like a yam, ' It's very white inside,"explains José, 'and we make a lot of things with it. We pound the manioc and drain the milk, which is starch basically and is used to make tapioca and then the pulp is dried. We don't do all that ourselves of course, we buy the flour ready made." The dish he has created Paçoca de carne seca e banana assada consists of a banana baked in olive oil and surrounded by jerk beef which has been fried with onion to remove the fat. The manioc flour is sautéed in butter until it resembles breadcrumbs and then the jerk is mixed in. The result is a dish alive with textures.
Another classic Brazilian ingredient is Dende oil. This is a heavy tropical oil extracted from the African palm that grows in Northern Brazil and it adds flavour and bright orange colour. José has used it in a broth of clams, which is spicy, and in which the oil floats around in slicks.
We try Casquinha de siri – bell pepper, coconut milk and crab meat shell au gratin, a dish of delicate crab meat with that other great Brazilian ingredient added, coconut, ' 'Yes we love coconut in Brazil,' grins José, 'wait until you try the desserts!'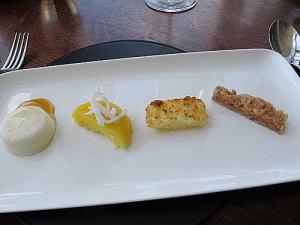 Before that comes Leitão à pururuca com tutu de feijão e couve Roasted suckling pig, black beans and sautéed greens. The beans are sweet and mealy and work well with the crunchy pork while the simple sautéed greens add vibrant colour and some of your five a day. A dish of Xinxin de galinha com quiabo Chicken and peanut stew with pan fried okra, shows again the influence of Africa on Brazilian cuisine
'Colonization was a big influence on our cuisine", José explains, ' in the north east we have the influence of African food such as this okra. In the North East it's fish and dende oil and the food is more spicy, while in the centre of Brazil is where you will find the greatest use of pork and manioc flour. I have tried to show that in all the dishes I'm serving."
As a final treat he gives us Interpretacão de côco: queijadinha, cocada, quindim e manjar
A tasting of traditional coconut Brazilian desserts. The quindim is a popular coconut treat in Brazil often found as street food sold by carts and is made with egg yolks, coconut and sugar and is a brilliant yellow. Queijadinha are coconut cakes made with condensed milk and cheese.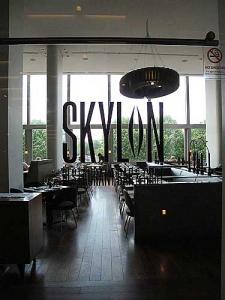 It's all been very good and José can go back to Brazil (his restaurant needs him) happy that he has done a good job. ' You know I have never left Brazil before!, ' he says. 'I was nervous for sure even about getting my ingredients, I brought my own honey with me, as well as the reception I would get. It's been great though, the team here have enjoyed learning my dishes and I am confident they will be carrying on well until I return in July."'This week has been a kind of practice, to get feedback, to adjust and to train. When I come back it will be with Brazil's top musicians; it's going to be the highlight of the Brazilian festival here. Maybe I can get to try some London restaurants too," he laughs. 'In fact this time all I managed was to go and see Wembley Stadium. You know we Brazilians like our football?" Yes, I'd heard. ' In San Paulo they showed a picture of our main street before the last Brazil World Cup match – packed with people. They showed a picture taken fifteen minutes after the match started. Not a person in sight!"
Well we may not share that passion to that extent here in UK, but José's dishes should certainly get people passionate about what Brazil has to offer.
Skylon,Royal Festival Hall,Belvedere Road,London SE1 8XX
Festival Brazil is running until September 5th on the Southbank and José 's menu is available until then.