Restaurant at The Petersham, The Petersham Hotel, Nightingale Lane, Richmond, Surrey, TW10 6UZ Tel: 020 8940 7471 www.petershamhotel.co.uk
The Petersham Hotel is a grand old building, set on a bit of a hill just outside Richmond's main drag. It has an imposing feel as you walk in through the main entrance. Its interior is equally as attractive and well maintained as the exterior. The Restaurant at The Petershamis to the rear of the building, with picture windows on two sides, it overlooks a bend in the Thames as it weaves its way out of – or is it into -Richmond and beyond. The view from the restaurant is beautifully green and simple and while we were there people were sailing their yachts along that stretch of the river, adding to the idyllic view. The restaurant itself has a kind of retro feel harking back to 70's and 80's style, there is a quiet elegance about it.
We each had a very nice Hendrick's Gin and Tonic in the lounge area of the restaurant while we chose our meal and waited to be escorted to our table, it was all very civilised. The restaurant was ready for us and we were escorted to a table that had a great view of this idyllic scene, it was as if London was many miles away. As we waited for starters an amuse bouche arrived, a crustacean bisque served with a crostini loaded with some very sweet white crab meat in a light sauce. Almost a starter portion in itself it was simply divine, the lovely fresh sweetness of the white crab meat contrasting well with the bisque that had a great depth of flavour through the dark meat of the crab. We understand that The Petersham's Chef, Alex Bentley plans to introduce this to the restaurant's main menu.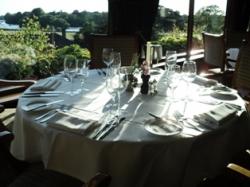 Starters then arrived. The seared red mullet with boudin of tiger prawn and smoked haddock was a lovely creation, the piece of red mullet fillet was perfectly cooked with a crispy well seasoned skin that you just had to eat, this was sat on top of the boudin, a disc that was made up of chunks of haddock and prawn that held together by a jell like sauce, this in turn was sitting on a tangy citrus cous cous around which a gazpachio sauce had been drizzled, finishing it off was a crostini that had been liberally spread with a good helping of black olive tapenade; it was an excellent combination. The ballotine of foie gras, was of equal quality, rich and smooth it had great flavour and was well supported by a slice of smoked duck, a muscat jelly with some golden raisins, haricot vert, pistachio and green peppercorns, the whole dish came together remarkably well.
Moving on to our mains, the confit of suckling pig and black pudding was a very good dish, the pig meat tender and well flavoured, the black pudding pieces had been deep fried in a light batter and contrasted well with it. It was served on a jersey royal potato and black truffle salad and a dressed mixed leaves came on the side. The potato salad was cold and I thought a little odd to contrast this with the freshly cooked main ingredients. While the flavours were all good, I would have preferred a warm potato salad supporting the meat. The plaice goujons were cooked perfectly, the inside flaky and extremely moist contained by a crunchily crisp panko crumb coating. Served with a crab and sweetcorn risotto, which had a great consistency and was just al dente, some lovely buttery pan fried leek discs, pickled ginger and some rocket leaves, it was a lovely dish.
For dessert, well you have to, the praline and vanilla millefeuille with orange segments looked quite substantial and it was delicious – I managed to get through it. The crumbliness of the wafer thin biscuits held together with the cream was lovely and gave a great hazelnut hit in the mouth. The chocolate moelleux (fondant) was a triumph, when cut into it gave up its thick chocolate sauce which oozed onto the plate, it had big flavour and was sat on top of some caramelised banana that had their sweetness lessened by the caramelisation and the slight bitterness it gave. Brought together by a good home-made ice cream it was another excellent creation.
Wines on the Restaurant at The Petersham list range upwards from £19, and there are a number available by the glass. With our meal we had a very nice Pinot Gris that matched the food very well. Service was smooth and efficient, the staff both helpful and attentive. Restaurant at The Petersham is excellent. It would certainly be a great place to have a celebratory meal, or just to spoil yourself when you feel inclined. It is somewhere that should be sought out and visited. Definitely one for the list.