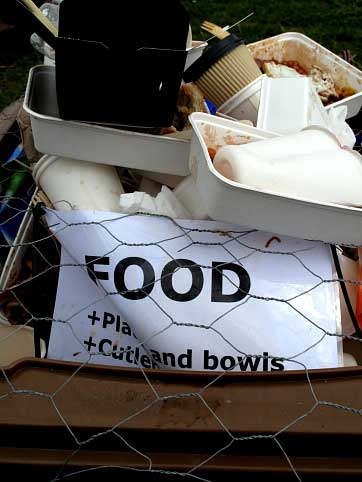 It looks like the aftermath of some terrible nameless war; people staggering about dazed and more than a little confused, their clothes covered in mud and debris. There are some shapeless lumps of human life on the grass half concealed by blankets, whilst others are supporting each other as they walk. All over the carnage hangs a thin pall of smoke.Welcome to Standon Calling, midday on day two. Everyone is very happy.
This bijou little festival in a gorgeous corner of the country and bang next door to Standon Lordship, a remarkable 15th Century mansion, has been running a few years now. It's a genial affair, the bands more often than not unknown but interesting, and the crowd eclectic. There's a main stage and a smaller stage and stages no bigger than, or which are, tepees. A giant tent contains the sound systems and the die hards are still in there dancing whilst the dead and wounded are making their way to the food stands for breakfast.
For these punters there's Japanese Food (by Paddy Field), toasties of various descriptions, fresh ground and brewed coffee stalls, a tea house, the inevitable stall selling humus and veggie burgers and the Breakfast Fryella, where what looks like giant paella pans are being used to cook that great British gift to the culinary world – the fry up. Here it's dry-cure bacon, free range eggs, baked beans, mushrooms, potatoes, bread and tea. The reviving power of the British Breakfast is remarkable – people in dishevelled fancy dress wobble away clutching their box of grub and mug of tea and visibly come back to life as they eat it. Hangovers melt away as the food goes down and normal conversation becomes possible once more. Many are so cured of their ills that they head off to the bar for a pint.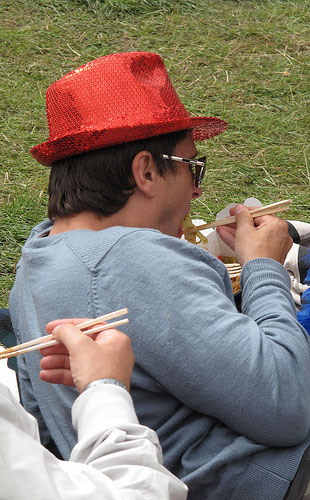 With the sun now out that seemed a very good idea, the bar being rather cutely built into some trees. However the lunchtime staff were clearly struggling. The bloke next to me had some difficulty explaining what a lager top was to the barmaid and soon resorted to mime 'Lager?' he mouthed, pulling an imaginary pint, 'then lem-on-ade', he mimed undoing a bottle and pouring. The girl went away and sent back another member of the team to handle this confusing request and then turned to me instead. I didn't do much better. There was ale on the bar list so I asked for a pint of bitter. 'Is that a drink?' the girl asked. We all looked over our shoulders for the hidden cameras, but it seemed she was serious. I reassured her that it was and she disappeared from view, presumably to laboriously Google it. She never came back anyway.
My sparkly press wristband wasn't just there to impress the kids, oh no, this gave me access to the production compound and to what I had really come to see – the catering for artistes, staff and all the rest. There was also hope of a drink there too, and once past security, a young African man who seemed cheerfully unconcerned about whether I had a pass or not, I was in the sacred area and I headed for the food tent. Here were tables, chairs and other signs of normality, plus nice girls doling out what looked to be respectable pasta dishes plus salads. Behind them were a team of tough looking chefs and a range of ovens and stoves straight out of any professional kitchen. And this is a professional operation for sure.
The catering in here is by Cookery Uncovered, a company run by David Rowles. He looks and talks like a particularly tough sergeant major, but drives on his team with as many encouraging words as criticisms. 'This lot are shit-hot chefs,' he tells me approvingly as the last of the lunchtime crowd die away and chickens start to get prepped for the evening's Thai curry.
David's career has taken in being Richard Branson's personal chef to setting up and running restaurants in North London such as The One Legged Goose in Primrose Hill, Bar Ganza and The Goose in Hoxton. He has also worked in the schools of Camden and Islington presenting classes and workshops to many Primary schools in conjunction with the Healthy schools programme and the Primary Care Trust.
He battles with dietary requirements quite cheerfully, 'one woman wouldn't eat anything!' he says wonderingly, 'only seeds! Not even vinegar or a butternut squash, still we sorted her out. We're here to feed people, that's what we do and we can meet most requests.'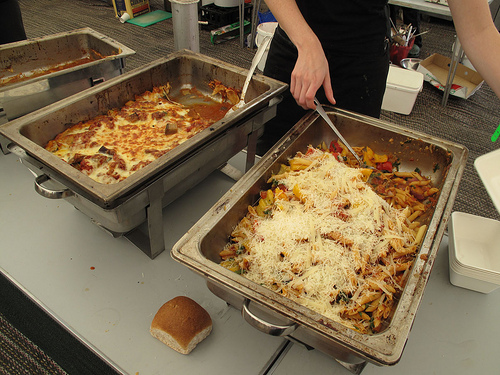 His attitude to all the festivals is to give the best, that means planning ahead to ensure local suppliers are on hand. It cuts costs, carbon footprint and makes lots of friends. He's proud that the food he supplies is well above average and critical of how some festivals charge the outlets outside far too much to be present. 'That's why I do the catering for the backstage,' he explains, 'the prices wanted for a pitch outside at most festivals just don't allow for the small quality operator to make a profit. So what happens is the low quality ones dominate. That's not good. Serving burgers for £7,' he shakes his head despondently. 'You could do a better job just getting boxes and boxes of sweet corn, easy to cook on a griddle and served at a quid each. No work no effort.
Still he knows things have got better over the years. 'First ones I went to there was no food at all,' he laughs. 'A lot of spliffs and a lot of peace and love, but no food.'
He goes back to help clear down lunch and get the evening meal on the go. A wild-eyed bloke catches my arm as I leave, 'blinding food here,' he says vehemently, 'lamb and chorizo last night, brilliant!' As David says, you got to keep the people happy and that's clearly what he does.
David runs cookery classes for all the family and for all kinds of needs. Check it out at www.cookeryuncovered.com