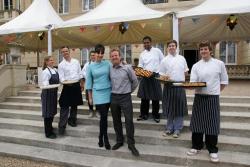 From reclaimed furniture to lead free crystal glasses, the Start Sustainable Pop-up restaurant at posh Lancaster House and Gardens is all about, you guessed it, sustainability.
But you've only until Sunday to catch the blink-and-you'll-miss-it event supported by Prince Charles. Launched on Wednesday night by soap royalty Barbara Windsor, the idea is to get more people thinking about sustainable living.
Menus for the restaurant have been created by Jamie Grainger-Smith and Gizzi Erskine using locally sourced, organic and sustainable dishes including cucumber and mint chilled soup shot, free-range chicken and rosemary skewers, M&S Scottish smoked salmon wrapped quails eggs and fairtrade dark chocolate brownies (which were fantastically gooey and rich).
Be warned though, the restaurant was already almost fully booked for its short appearance by Wednesday night, but you might be able to nab a table if you're lucky.
If you don't manage to squeeze in, there's always the alfesco bar for light bites on the terrace. It'll be serving a variety of British cheese boards, freshly made breads, sharing platters and British faves like pork pies and Scotch eggs. The bar is open daily from 11am – 10:30pm.
Reservations for the restaurant and for more information, log on to www.startuk.org