Open to the public 17thNovember, the new bakery in Selfridges will offer the same range of great tasting, freshly baked bread which is available in all the St John Restaurants, including the famous St. JOHN Eccles cakes. All bakery products will be baked on site in Druid Street and delivered to the Selfridges Food Hall every morning.
Fergus Henderson, the revered chef who founded St John Restaurant, St John Bread & Wine and the St John Hotel, along with restaurateur Trevor Gulliver, is renowned for his use of offal and his philosophy of Nose To Tail Eating. Initially Fergus trained as an architect but found his true calling in the kitchen.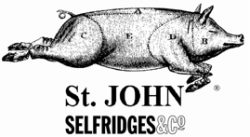 Fergus Henderson comments:" We are delighted to partner with Selfridges in this significant move for St John, as we have long wanted to find the right folk to work with. Bread is as vital as your knife and fork at the table and we have worked hard over the years to develop delicious tasting breads full of good ingredients. We wanted to show customers the difference that time, good hands and experience bring to a good loaf of bread and we hope Selfridges' customers enjoy the fruits of our labour"
Selfridges food and restaurants director Ewan Venters says: 'We have always seen Fergus and his team at St JOHN as pioneers in the food industry and it is a pleasure to welcome their bakery to the Selfridges Food Hall. We think they will be a fantastic addition to Selfridges, their belief in good quality produce and provenance echoes ours and we can't wait to offer their delicious bakery experience for our customers to enjoy".
The St JOHN bakery will offer White Sourdough, Brown Sourdough, White Loaf, Brown Loaf, Raisin Loaf, Sandwich Loaf, Soda Bread, Mini Eccles cakes, Rye Loaf, 100% Rye Loaf, White stick
St. JOHN Bakery – located in the store's Food Hall area – Selfridges, Oxford Street