www.voltairebar.com
Tracy is seduced (or is she conquered) by the delicious street food offerings at Voltaire.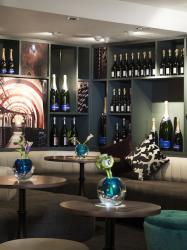 Voltaire, the champagne bar, has had many guises through the ages, captivating an eclectic audience – quite literally in the case of the felons detained when it was a prison and the treasures housed when it was a bank – and now attracting Square Mile visitors looking for delicious food and drink. Located in a Grade II listed building on the foundations of the former Bridewell Palace, the bar is now a contemporary, sophisticated space, with the vaults turned into areas that are individually styled and which can be hired for private parties. 
Textured fabrics on the leather banquettes are teamed with blown glass chandeliers and light'curtains' decorating the walls, making it a chic yet relaxed space. And if the ambience (and the framed Voltaire quotes) weren't enough of a drawcard, the prodigious selection of Pommery is enough to put a smile on any Champagne Charlie's face. After all, this bar is named after the nom de plume of writer, poet and philosopher François-Marie Arouet, AKA Voltaire, who famously said, "It's not enough to conquer; one must learn to seduce". In the case of the eponymous bar, I'd say job done.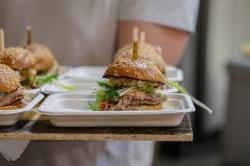 Elegance is surely par for the course when quaffing expensive bubbles, but how then does a Champagne bar increase its street cred? Well, that's easy, Voltaire's Taste of the Street is seeing three stars of the vibrant street food culture take up residence in the bar for three weeks, on Wednesdays to Fridays (from late March to mid May), serving dishes that work perfectly with the selected champagnes. 
The Cheese Truck's toasties are what comfort food is made of – melting British cheese combined with locally sourced and free-range ingredients. For many, cheese is the quintessential sandwich, and cheese and onion is a classic for a reason, as showcased by the Classic Keen's Cheddar, Ogleshield and mixed onion; crisp bread, oozing Cheddar and soft onion is a bit like the food equivalent of a big hug. Embrace it from 25 March to 10 April.
But if you're looking for a sarnie with a difference – and a bit of a bite – Cropwell Bishop Stilton with bacon and pear chutney is just the thing. The combination of strongly flavoured cheese, bacon and sweet chutney is a must-try for blue cheese lovers. 
Alternatively, if a creamy and sweet mouthful with a delectable crunch and subtle savoury edge is more to your taste, bite into the goat's cheese, honey and walnuts with rosemary butter. Or head down Mexico way for a grilled cheese made with a Queso Chihuahua, chorizo and rocket. You might imagine these sandwiches to be a bit on the heavy side, but The Cheese Truck's specialities are all crisp and have lightness to them that, along with their ingredients, elevate them from homely toastie to posher fare.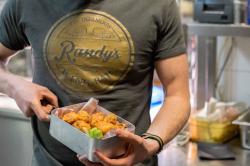 Whatever you choose to eat, and the decision will be difficult (especially as there are other offerings such as triple cheese croquettes and a Stilton and sweet dark chocolate brownie (yes really!), Voltaire suggests enjoying them will Pommery Falltime Blanc de Blancs Extra Dry Champagne for probably the most upmarket sandwich experience ever. 
Next up, from 15 April to 22 May, is Bill or Beak serving fully loaded burgers with either bill (duck) or beak (chicken). Shredded duck and pork is piled on to a brioche bun with tempura shallots, coriander, mint and a Vietnamese dressing for a burger unlike anything you've tasted before. The richness of the meat is beautifully offset by the Asian flavourings and given a bit of crunch with the battered shallots. It is quite simply finger-licking food that will have you rushing back for another taste, in-between sips of Pommery Wintertime Blanc De Noirs, of course.
The chicken burger also incorporates familiar tastes that have gone incognito – corn-fed chicken with tempura capers, rosemary croutons and fresh Parmesan, served with a Caesar anchovy dressing is far more mouth-watering than any salad equivalent. Wonderfully succulent, the size of the burgers are also deceptive – they don't look very big but, packed with filling, they are a substantial bite, but can also be enjoyed with fries topped with hoisin, pickled cucumber mayo and chicken scratchings, if you fancy.  There is something very satisfying about eating with your hands while drinking bubby (in this case, Pommery Summertime Blanc de Blancs is recommended) – a bit of getting down and dirty while the cork pops on a beverage that is usually reserved for special occasions. But with a tasty mouthful and a charged glass, I'd say the festivities have already begun!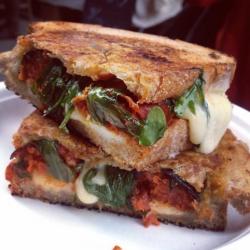 Randy's Wing Bar serves American-style chicken wings that are a perfect blend of crispness and spice that can be enjoyed from 6 to 22 May. Fill your glass with Pommery Springtime Brut Rosé and tuck into Norfolk buffalo wings with blue cheese and celery – fiery chicken with a hint of blue cheese makes for a truly moreish nibble, or try the Asian wings, which are sprinkled with crushed peanuts and sesame seeds. The buffalo shrimp with a lemon and dill dip consists of wonderfully fat and juicy prawns seasoned with a good kick of spice that is cooled by a good dunking in the creamy sauce – yum! Plus, for those wanting a new version of that old pub staple, pork scratchings, there will also be chicken scratchings, served with rosemary or Asian seven spice, to try. 
According to Voltaire, "We cannot wish for what we know not". However, now that I have partaken of the succulent, spiced and innovative street food available for a limited period at Voltaire that no longer applies – and my gluttony is hankering for a second taste. Although which one to choose? That's my tasty dilemma…
The Cheese Truck (25 March-10 April)
Bill or Beak (15 April-22 May)
Randy's Wing Bar (6-22 May)
Available at Voltaire Wednesdays to Fridays evenings (5:30-10pm)