Sell out 90s Hip Hop night Supa Dupa Fly, which regularly takes over Brixton's Plan B and the Jazz Café, are bringing together my two favorite senses to launch the Supa Dupa Fly Pop-Up Kitchen.
Whether you prefer Jerk Pork and a bit of Jigga, Southern Fried Chicken with your Snoop, or a slice of Pecan Pie to sweeten up your Puffy, Supa Dupa Fly have it covered.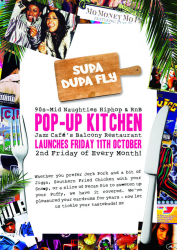 The menu will draw on influences from Southern Soul Food and Caribbean spice to create the tastiest dishes this side of the Atlantic.
All meats and vegetables are sourced from UK suppliers where possible,  with a strong emphasis on seasonality. Chef Mat MacDonald has earned his spurs through years spent at the stoves of Michelin listed restaurants which share these values, from suave city hangouts such as Vinoteca to the trendy Soho tapas joint Copita.
Should you want to make like Biggie in the second verse of Big Poppa, or wine and dine a baller/shorty before tearing up the floor (I have blurry memories of doing just that to Gravel Pit at the Jazz Café circa 2011)you can book a table for dinner and gain entry for the hottest club night around, featuring raw live musical talent on the stage, and then later all your faves from the L-B-C, C-P-T and NYC.
Combining good food with better music, this pop-up looks to be wild – make like Ghostface Killah and book it.
Sample Menu
Starters
Mac n Cheese croquettes, tomato salsa 
Jerk pork, plantain and peanut salad 
Mains
Southern fried chicken 
Sweet potato, shallot and feta tart 
Served with either Coleslaw or Pecan and Apple Salad 
Desert
Pecan Pie with Creme Fraiche 
Coconut Rice Pudding with Mango and Lime 
2 Courses & Entry to Supa Dupa Fly £22
3 Courses & Entry to Supa Dupa Fly £27
Important Stuff:
For table bookings & enquires, please contact supadupafly@rockthebelles.com  
When: 2nd Friday of every month
Where: Jazz Café's balcony restaurant
Times: Pop-Up restaurant open from 8pm-11pm, live acts & Djs from 8pm-10pm, Supa Dupa Fly Club night from 10pm-3am.
Contact: www.rockthebelles.com / itssupadupafly@gmail.com / www.twitter.com/itssupadupafly