All summer long the grapes have been roasting in the Alentejo sunshine. Alan Kingsbury flies down to this vast and under-appreciated area of Southern Portugal to join in the harvest and see what quality he can find in a new generation of super-ripe wines.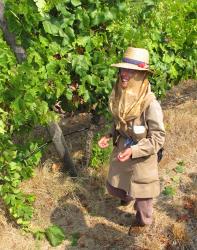 "Do not cut the fingers off your left hand".
I'm getting a short lesson from Olinda, a grape harvester in the baking hot vineyards of Southern Portugal. She passes me a pair of scarily sharp secateurs and laughs. Olinda is tiny, tough, wiry and utterly adorable.
Heavily protected from the sun, she leads her all -woman team of pickers here at the Alentejo's largest winery, the Herdade do Esporão.
While I tentatively snip a few bunches, the professionals sweep past me through the rows of vines with almost military speed and precision.
New Wave Wines
I've been hearing a lot of good things about the wines of the Alentejo region so I'm making a tour of my own during this most exciting time in the oenological calender, harvest time.
Yes, I'm a wine tourist with a notebook and 100 euros to splash out on a suitcase full of trophy bottles to take home.
A lot has changed since the Portuguese used to ferment their grapes in two metre high clay pots which today mostly stand around as giant ornaments.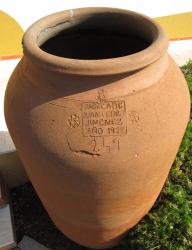 In recent years a rapid injection of investment and expertise has replaced the clay with gleaming stainless steel and expensive French oak barrels.
It is at the  Encostas de Estremoz winery that I get my first taste of what's going on here in the Alentejo; the Encostas Reserva is aromatic, intense and refined with a whacking 14.5% alcohol.
This is typical of the region. The sun beats down on what is one of the hottest areas in Europe and the grapes get ripe, very ripe.
Not being averse to a bit of historical 'luxe' I began my tour by checking in at the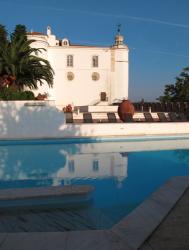 Pousada Rainha Santa Isabel, an imposing former royal palace near the town of Estremoz, it's well situated to begin an exploration of the area. A breakfast of watermelon and papaya after a dip in the pool sets me up well for a hard day's wine tasting.
Pêra-Manca
I've been looking forward to visiting the medieval town of Evora with its relaxed atmosphere and gruesomely Iberian 'chapel of bones';  and it's in Evora's old Cartuxa winery that  I come face to face with a bottle of one of Portugal's most famous reds, the legendary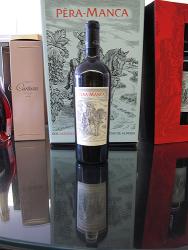 Pêra-Manca, a wine so exclusive that it is only made in exceptional years.
Unfortunately the bottle remains closed. At 100 euros a pop the winery does not offer tastings. I scrabble through my tatty wallet to check the euro situation but the asking price would blow the whole budget in one go. I'll have to leave it to wealthier Brazilian visitors who apparently kiss the bottle on acquiring one.
All Cartuxa wines are very good however, from their entry level 'EA' range upwards there is beautiful fruit, regional character and an intelligent use of oak. I more than happily add the Cartuxa Red 2010 and White 2010 to my collection.
Moving on, I spend a night at the 5 star Hotel Convento do Espinheiro,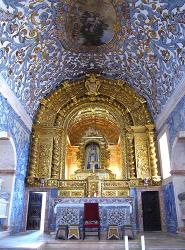 a stunning contrast of old and new combining a full scale restored monastery with stylish, modernist accomodation. The huge church is literally divine, full of light and owned by the hotel itself even though it's a monument of national importance. Some people choose to get married here and take the hotel over for their guests.
It's the sort of thing pop stars and millionaires do. I settle for a photograph and dinner among the Gothic arches of the monks' former wine cellar.
Small Is Beautiful
I'm keen to meet some of the younger generation of winemakers who are making waves in the Alentejo. In particular Filipe Teixeira Pinto who has created his Herdade do Sobroso estate from scratch in just 12 years.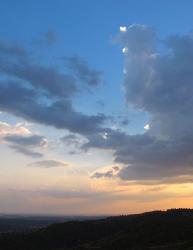 I drive out to Vidigueira to meet him at the small but sublime country house hotel he has created among the vineyards.
Filipe is elegant, educated and informed with a whiff of the aristocrat about him. In his 4×4 he takes me into the hills up gradients that fall just short of panic-inducing to spy wild boar and marvel at the beauty of the Alentejo landscape at sunset; and it's wild boar that he serves at dinner, cooked in wonderfully rustic fashion with flavourome juices oozing.
We talk vines, politics and euro-economics while enjoying his Sobroso Tinto 2010, a wine that demonstrates such classic purity of vision and compatability with the boar that I feel like Portuguese royalty at a hunting lodge.
Pure Portugal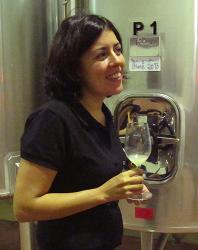 The Alentejos are lucky to have a seemingly endless list of local grape varieties to call to hand and this in turn has made them masterful blenders, able to adapt the nuances of each into wines that reflect their climate and terrains.
To learn more, I visit the Casa de Santa Vitória Wine Cellar near Beja where I am met by a leading light among the young female winemakers of the region, Patricia Peixoto.
For some reason I am not fully prepared for what is to come. Perhaps I'm still a little tetchy that I haven't been able to find a decent cappuccino at breakfast yet; but immediately I am swept away by Patricia's vitality, charm and evangelical love of her profession.
Within minutes my head is at once in a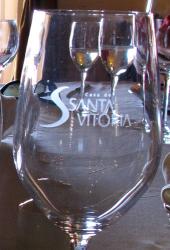 vat of macerating 'Touriga Nacional' my nose in fermenting 'Arinto' and my lips around a glass of 'Trincadeira' . If I didn't know anything about Portuguese grape varieties before…I do now.
After giving one of the best explanations of the wine making process that I've ever seen, Patricia sits down with me and opens a couple of bottles of her finest wines including a single variety Touriga nacional 2009 and the superb, and as yet unreleased, Grande Reserva 2009.
My time is running out, I need to get to Lisbon airport, a plane is waiting to take me away from the warm September sunshine to the grey autumn skies of England; but there's time for just one more winery,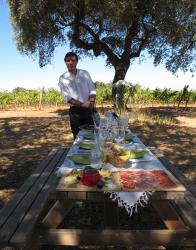 the sublime Herdade da Malhadinha Nova.
I miss out on the chance of having a go at the traditional foot treading of the grapes that are now pouring out of the vineyards in favour of a leisurely wine tasting and picnic under shady oak trees.
Now a fully fledged convert to the wines of Alentejo I make one last acquisition, a bottle of lovingly produced Malhadinha Nova monovarietal 'Aragones 2008' which takes my suitcase perilously close to the 23 kilogram baggage limit; but that's OK because, thanks to Olinda's advice, I still have two hands to lift it with.
______________________________________________________________
Sunvil Discovery (tel: 020 8758 4722; www.sunvil.co.uk) offers tailormade itineraries across the Alentejo. Itineraries cost from £819 pp (two sharing) including return flights (Heathrow) with TAP Portugal (www.flytap.com), seven nights' B&B accommodation staying  at the Hotel Convento do Espinheiro in Evora and the Pousada Rainha Santa Isabel in Estremoz, and car hire. For further information about the Alentejo, see www.visitalentejo.pt/en/.