Sushi Daily is an international sushi franchise with kiosks across the UK, including Waitrose and Asda. We picked up a platter.
I don't often go to Waitrose; the one near me has a difficult small car park made worse by yummy mummies incompetently trying to maneuver their enormous Porsche Cayennes and Range Rovers. You can spend an age finding a space.

Mind you, you can see why they go, it is nice inside Waitrose. So this is how the wealthy eat? I am impressed and a little envious.

The sushi is made fresh to order, and the team is happy to help out with advice so if you're not confident of your sushi versus your sashimi,you can relax and let them guide you. As we knew what we'd wanted, I'd made our order online earlier.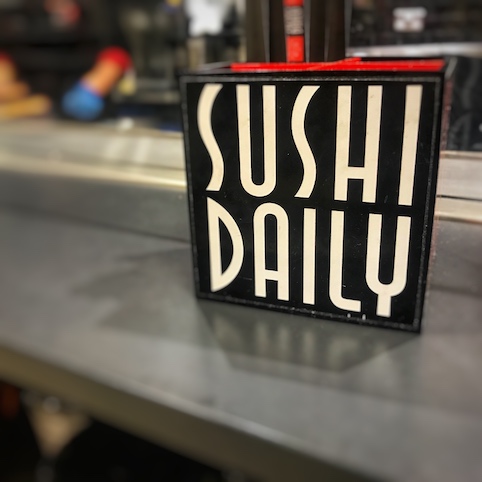 No time to admire the mixed olives though, or to lustfully eye up the aged meat in its glass jewel case, it's down to the far end to find Sushi Daily.
Here in a spot where in downmarket supermarkets you would find someone pretending to be a butcher or a fishmonger, you have an actual open sushi kitchen (or 'kiosk' as they are called) run by what appears to be actual Japanese people.
Once you've chosen your pick up point you can schedule your pickup hours, or even days, ahead (it will be freshly made at that time), or simply select ASAP and check on progress via the website. You can also make an order via Deliveroo Editions

The choice is extremely wide, over a hundred options, and with all the sushi greatest hits such as Maki, Nigiri and Sashimi, as well as Gyozas and Wraps.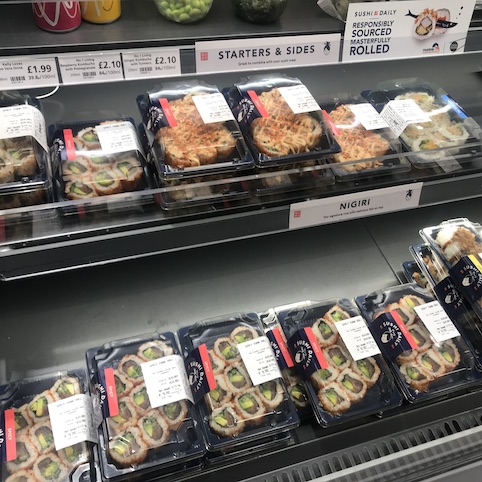 We'd chosen the Hikari Mix of 36 pieces: 3 Sushi salmon, 3 Sushi tuna, 6 Maki california, 6 Maki salmon, 6 Roll in salmon cheese, 4 Maki avocado, 8 Crunch veggie roll. This looked like it would be enough for two; you don't want to over order as it's easy to forget how filling sushi rice is.
But we did forget and also ordered a crunchy chicken roll.
Up at the open kitchen, where the staff, the 'artisans' were all beavering away cheerfully, our food was ready and waiting at the time we had asked for.
So grasping the boxes firmly in hand, we headed for the exit avoiding the temptation of the cheese counter. Ten minutes later we were unpacking at home.

Lovely colours, vibrant and a lot fresher looking than the sushi I used to buy from the place near the office.

In my defence I only did that when I couldn't face another one of their ice-cold sandwiches. You know who I mean. They're gone now, killed off by Covid.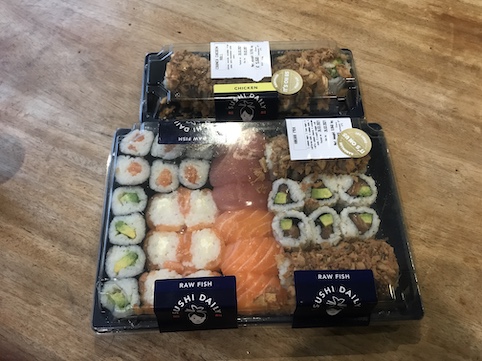 We had our own chopsticks, the proper pointy kind, as well as soy sauce (Kikkoman's, of course) and a tube of fake but fiery Wasabi.
It might have been a more sensible idea to eat straight out of the box, but we chose to unpack. Soon we were experty tweezing (in my case) and inelegantly stabbing (in my partner's) our sushi,
The journey home had taken some of the chill off the fish and the rice was at the correct room temperature. Sushi rice gets gluey if too cold, the starches fix, and also the aromatics in the rice are stifled at low temperature.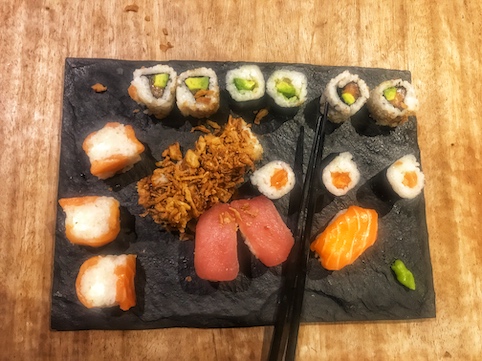 Favourites were the rolls with salmon and cheese, vaguely reminiscent of bagels with smoked salmon and cheese, and the sushi tuna where the rice and fish were well balanced, many places will skimp on the expensive high grade tuna.

The maki rolls with Nori seaweed wraps could have had a bit more vinegar in the rice for my taste, but otherwise we were very happy. This was all well made and well priced and above all fresh.
Apart from the joy of not actually having to cook for once, there was also the enjoyment of something different for dinner.

Sushi Daily can make up some very big sharing platters, so now with some easing of restrictions why not pick up something substantial for the Easter weekend?

Find your local Sushi Daily kiosk