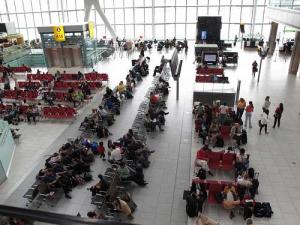 Not everyone can eat at the particular Gordon Ramsay restaurant I'm sitting in today. You need a ticket. A British Airways ticket to be precise, as this is Plane Food airside at Terminal 5 Heathrow.
You get a rather good view though – to the left are planes landing, while to the right they are taking off with clockwork regularity. Plane spotters can note the variety of planes manoeuvring about and marvel at the way the new A380 completely dwarves the normal planes that shuttle back and forth to Europe. It's like seeing a whale in a goldfish pond.
Terminal 5 is only for BA flights so there are no budget airlines here. This means that there is, dare I say it, a slightly more upmarket feel to the terminal and the people using it. There's no sign of people enjoying the traditional British holidaymakers' pre-flight breakfast of ice cold lager, instead there are fliers eating caviar at the Caviar House and Prunier. The range of caviars start at around £88 for 50 grams making this a pretty pricey snack – 50 grams by the way is not a lot, the tin is small and made even smaller by having a convex bottom.
How do you like your eggs?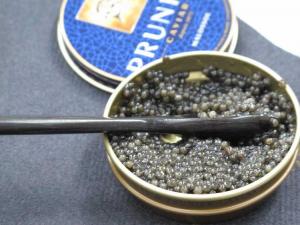 It is quite delicious though. Before making my way to Plane Food I'd had a sample of the fishy egg delights on offer and once you get over the shock of eating £10 in one small bite you start to appreciate the subtle differences of different caviars. Baerii sturgeon provide the eggs but there are different ways of preparing them. The Tradition, the 'cheapest' on offer, had a nutty taste. The next level up is St James' and this had a subtle flavour with black eggs. It was introduced for the first time in 1932 for the opening of the Prunier restaurant on St James Street in London and has a low salt content and is matured for two months after catch.
The final taste was of Malossol, which is salted, and, to my untutored taste buds, the finest of all. You can eat the caviar with the provided blinis, sour cream, chopped onion or toast but to do so seems a waste. A spoonful, using the non reactive spoon provided, on the back of the hand as if taking snuff, is licked off and then you wait for the flavours to build in the mouth. It is a unique experience and suddenly the price seems right.
The manageress of the Terminal 5 branch is remarkably down to earth considering the product she sells, I expected an exiled Romanov princess at the very least. Instead she is honest about the exclusivity of the caviar but points out that the price is coming down and all kinds of people eat at the restaurant. Prunier are keen to encourage more people to discover the decadent delights of caviar and so have reduced their profit margin to make it more accessible. It's never going to be cheap though as it takes 8 years for a sturgeon to grow to egg-harvest size, and the production process is labour-intensive.
Of course you don't have to eat caviar at Prunier, the seafood on offer is very tempting and very fresh too. Nor do you have to be at T5 to try it; they have branches in town as well. It has to be said though that eating caviar pre-flight must be the best start to any romantic weekend break.
A Japanese breakfast
Luckily I wasn't too hungry before tasting, as I may have made some serious extensions to my overdraft. I was actually already quite sated from breakfast at T5 Wagamama. This is the only branch of Wagamama to do a brekky and what makes it particularly interesting is the presence of Japanese food to start the day.
Okonomiyaki was a thin omelette that was garnished with fermented and smoked tuna slices (hanakatsuo) so delicate they were gently waving in the rising steam like sea anemone. It was a rather weird sight, as if breakfast was alive. It's known in Japan as Dancing Fish Flakes for this reason. The saltiness of the fish went well with the omelette, itself packed with peppers, cabbage and mushroom and topped with aonori, a seaweed that is also a seasoning.
Those that had the coconut porridge – porridge oats mixed with whole coconut and coconut milk served with an apple and chilli jam seemed to like it, but I would have gone for asa goha. This is the traditional Japanese breakfast of sticky white rice, miso soup and pickles with grilled salmon, which I've had in many an international hotel. It really livens up the system and is a lot less artery threatening than sausage and bacon.
With Kedgeree and yaki yaki soba also on offer, the Wagamama breakfast is really rather tempting. Apparently it's going down well with all races, not just the Japanese, being perfect for early morning eating.
Right, it's Ramsay time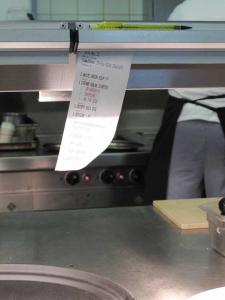 Plane Food as a restaurant name is obviously tempting fate. You can imagine the worried discussions around the table when the idea was first mooted – what if the food's boring? What if it fails to 'take off'? What if it crashes? No doubt Gordon overruled them all, bouncing up and down on the balls of his feet, chopping one hand into another and saying 'yeah?' at the end of every sentence. Which is exactly what his head chef at Plane Food is doing as she chats to me – talk about influencing your staff, yeah? She could be Gordon himself, were it not for the obvious physical differences.
She runs a tight ship. The kitchen, almost new of course, gleams and sparkles and nothing is out of place as the chefs work with steely-eyed dedication to getting the dishes out fast. Plane Food offers Plane Fast – meals that are guaranteed to be on the table within a certain time frame, no more than 35 minutes for three courses, a very necessary part of catering for travellers waiting for planes. No gas is allowed in the airport and so all the cooking is electric, which creates its own challenges but if it causes any difficulties for the team you wouldn't know it.
It's a menu that offers nothing to frighten the horses and everything to suit people eating in an alien environment. It's all reassuringly 'normal' and makes your tummy rumble, although that may be the result of eating caviar on top of a Japanese omelette of course
We dip a fork in a selection of dishes: Beetroot and English goat's curd, toasted walnuts, pesto dressing is great, sweet chunks of beetroot bouncing off the salty cheese perfectly, with the walnuts adding that important contrasting texture. Penne with tomatoes, aubergines, mozzarella, and pecorino romano is simple and perfect. A load of carbs being ideal for keeping you going on a medium long flight and who doesn't like that mix of veg and cheese? Prices are fair, this isn't a budget airline terminal after all and the restaurant reflects this in quality and ambience.
Those with more time to spare can go a la carte. A starter of Chicken liver parfait,
chutney and toasted sourdough was richer than Bill Gates and almost better than foie gras through having an earthier bass-line rumbling through. Roasted cod, polenta chips, peas and spicy ketchup was school dinners done up for the dance, the polenta chips stacked like Lego pieces and the bright green peas sweet and soothing. Stout-braised shoulder of beef with mashed potato was so simple it made you wonder why people chase novelty when the old dishes still have the intrinsic power to deeply satisfy.
It would be a good restaurant anywhere and under its punny name Plane Food offers just what the more tasteful traveller wants from a Terminal Restaurant, a change from burger outlets and mock Italian eateries. And they even do a rather nifty food box to take on the plane to eat instead of the provided BA meal, one which I took home for my tea and which is very popular with business and leisure travellers alike.
If you find yourself travelling through Terminal 5 plan ahead to get some eats at these places. They go to show that airside food far from being in terminal decline is actually in a very healthy state.