Got a KitchenAid Tilt-Head Stand mixer? Lucky you. Now you need the amazing new KitchenAid Bread Bowl With Baking Lid. Maybe for Xmas?
Home bread makers know that a stand mixer takes the hard work out of kneading, but most bakers soon learn that many mixers simply can't handle the work.

It's a tough job and will break the back of most mixers in a very short time.

Not the KitchenAid Tilt Stand Mixer though, this iconic design hero hasn't changed its looks much in the last 100 years and it remains one of the strongest, if not the strongest mixer on the market.

A full parts and support service means it can be easily repaired should it ever (unlikely) go wrong or wear out.

It's a big investment price wise, but will probably last forever and it makes any kitchen look great.

It's more than a mixer too; attachments exist for rolling and cutting pasta dough, grinding meat and making sausages, making ice cream, slicing vegetables and there's even a food processor.

Now comes the KitchenAid Bread Bowl With Baking Lid

Solidly ceramic in cream with speckles, and backed with a 5-year no-chip limited warranty, it fits both the 4.3L and 4.8L Tilt-Head Stand Mixer. The idea is that one can mix, knead, proof and bake all in one. From mixer to oven, no fuss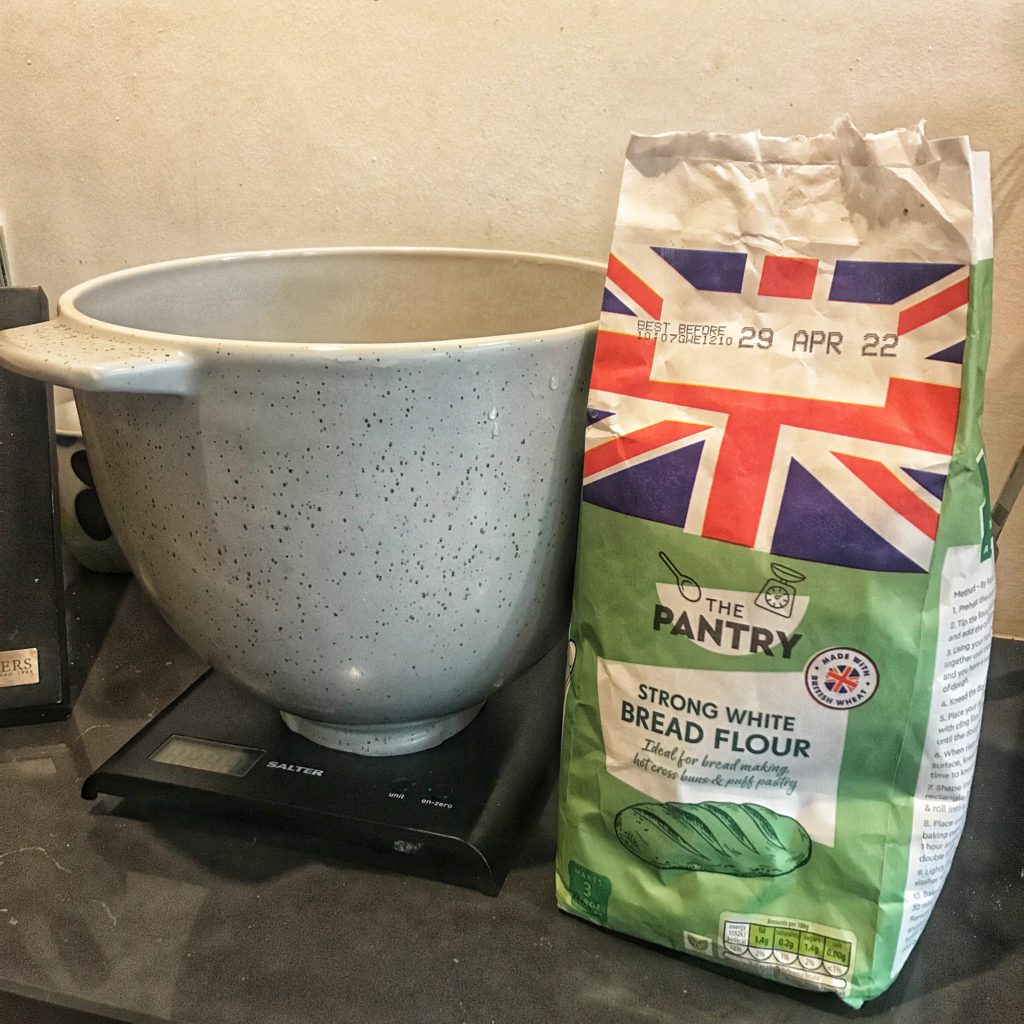 This obviously saves on the washing up, but there is more.

The bowl lid with your bread on goes into the oven and then the bowl is inverted onto it. Deep ridges on the lid make sure it's a solid, safe fit.

The clever thing is that the bowl traps steam when baking, while allowing plenty of space for the bread to rise. This steam is what gives you a proper good crust. Without a steam oven, the only other way of achieving it is to throw water onto a hot baking tray when the bread goes in. Not ideal.

So we gave it a go with our venerable KitchenAid.

Doing The Dough


There is a recipe for bread in the booklet, but bizarrely it wanted us to use all-purpose plain flour and not bread flour. This seemed wrong, so we ignored that bit. Bread flour has the important gluten that plain flour lacks.

The dishwasher safe lid and bowl is a lovely piece of kit; very good looking and made out of high quality ceramic with the base of the bowl carefully moulded to fit perfectly into the mixer's robust locking mechanism. No chance of it dancing off! It's also microwave safe, so you can warm up your ingredients on a cold day.

Recipe: 500g bread flour, 7g Instant yeast, 1.5 tsp salt, 1.5 tsp sugar and approx. 350ml of water. Use the Dough Hook.

Approx., because how much water you need depends on humidity and the flour. It's best to add about 325ml slowly as the mixer runs on Speed 2 and then wait and see how things go. You can always add more water, but you can't take it out!

You want a sticky dough, but not so wet you can't handle it. After three minutes the dough came cleanly away from the sides of the bowl in a nice smooth lump. Far easier than ten minutes kneading.

We took it out, oiled the bowl very slightly, replaced the dough, put on the lid and stashed the whole thing in the airing cupboard for an hour. There are handy marks on the inside of the bowl so you can see how much it then rises.


An hour later, it had risen well, a quick simple knead and shape, and then back in for another hour.

Ready To Bake

Finally it was carefully taken out and placed on the lid (use non-stick parchment or it will stick), slashed twice for looks and the bowl placed on top and into the oven. Make sure you've ensured enough headroom for it! The bowl and lid are safe to 260C.

After thirty minutes we removed the bowl for the last ten minutes, and here I have a small criticism and a suggestion,

The bowl is shiny and very slippery to lift, so you need to grasp it hard with your oven mitts, it is also at this point insanely hot, so gripping hard means the heat comes through the mitts. And it's fragile, so you don't want to drop it.

What's needed I think is two small moulded lugs halfway down the bowl to slip your gloved hands over so you can lift with less grasping.

Anyway, off with the bowl and another ten minutes and it's done. Looks great. Tap it on the bottom and hear the 'hollow' ring.


However as with all bread you have to wait until it has cooled down completely before slicing. It's hard to wait, but wait you really must.

Verdict. Well-shaped, delicious and with a perfect crust, one that I have never managed to achieve before.

The bowl will also I suspect be perfect for sour dough baking, I won't mix in the machine as sourdough doesn't require traditional kneading, but that bowl will be perfect for the baking,

Once the bowl cooled down (don't put cold water in a hot bowl, it is ceramic and will shatter with the shock) it was an easy clean inside and out.

Verdict. Once you've baked your own bread, you won't go back. A KitchenAid already makes the first steps easy, now with the KitchenAid Bread Bowl With Baking Lid it's a doddle all the way from the bag of flour to the butter on your toast.

The KitchenAid Bread Bowl With Baking Lid is available direct from KitchenAid as well as Lakeland