A selection of bite-sized morsels and nibbly bits – perfect for passing round at parties.
SAUSAGE ROLL PARCELS WITH TRACKLEMENTS APPLE & CIDER BRANDY CHUTNEY
These sausage roll parcels are so easy to make and are the perfect accompaniment to white wine and festive fizz.
Makes 15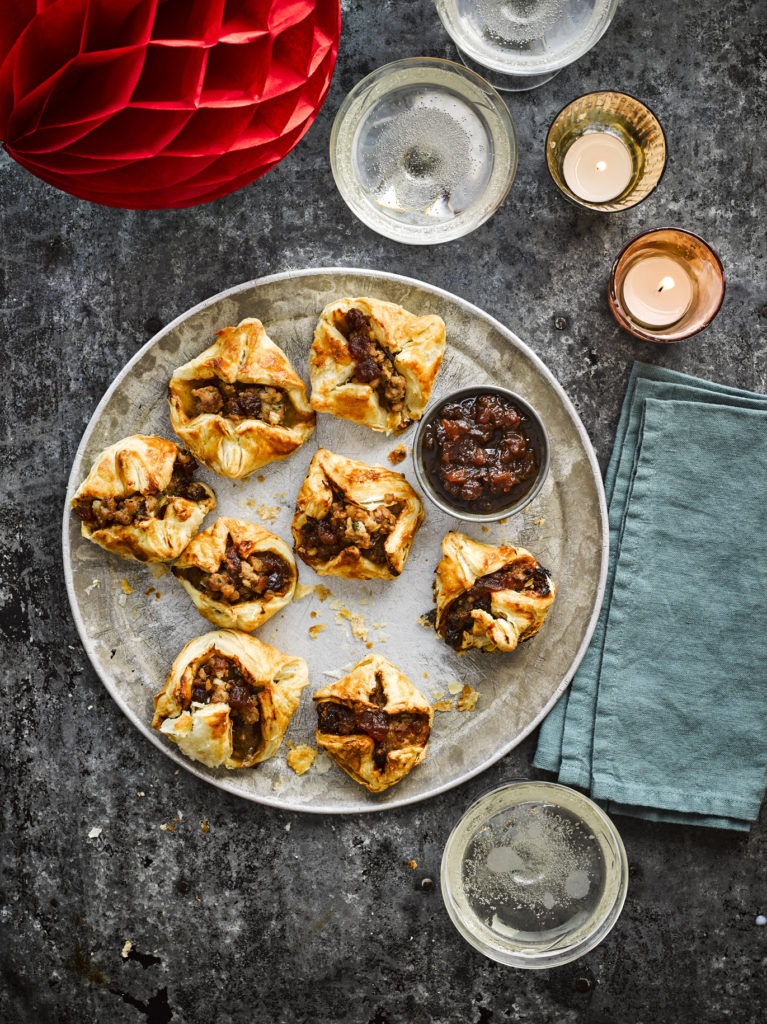 Ingredients:
plain flour, for dusting
500g pack readymade puff pastry
450g good quality pork sausage meat (or sausages)
1 tbsp fresh chopped parsley
1 small onion, peeled and very finely chopped
150g Tracklements Apple & Cider Brandy Chutney
salt and pepper to season
1 egg, beaten
Method:
Preheat oven to 200°C/ gas mark 6. Lightly grease two large baking trays
Dust the work surface with the plain flour. Roll the pastry (even if you have bought a ready rolled sheet you will need to roll it thinner) until approx. 50cm x 30cm. Cut it into 15 10x10cm squares – use slightly smaller squares if you want them bite sized (7cm x 7cm)
In a bowl mix the sausage meat (if using sausages snip skins and peel), parsley, onion, Tracklements Apple & Cider Brandy Chutney and season
Put a dessertspoon of the sausage mixture into the centre of the pastry square
Fold the four corners into the middle, making a parcel shape and seal at the top and put onto the greased baking tray
When you've done all of the parcels, brush with beaten egg
Bake for 20-25 mins or until cooked through and the pastry is golden brown
Eat hot or cold
MUSHROOM TARTLETS WITH TRACKLEMENTS CARAMELISED ONION MARMALADE
These are not your average retro mushroom vol-au-vents, but rather bite-sized canapes, made with bread as the base, tasty chestnut mushrooms, fresh thyme, crème fraîche and gruyère cheese. Just the perfect go-to drinks party food.
Makes 12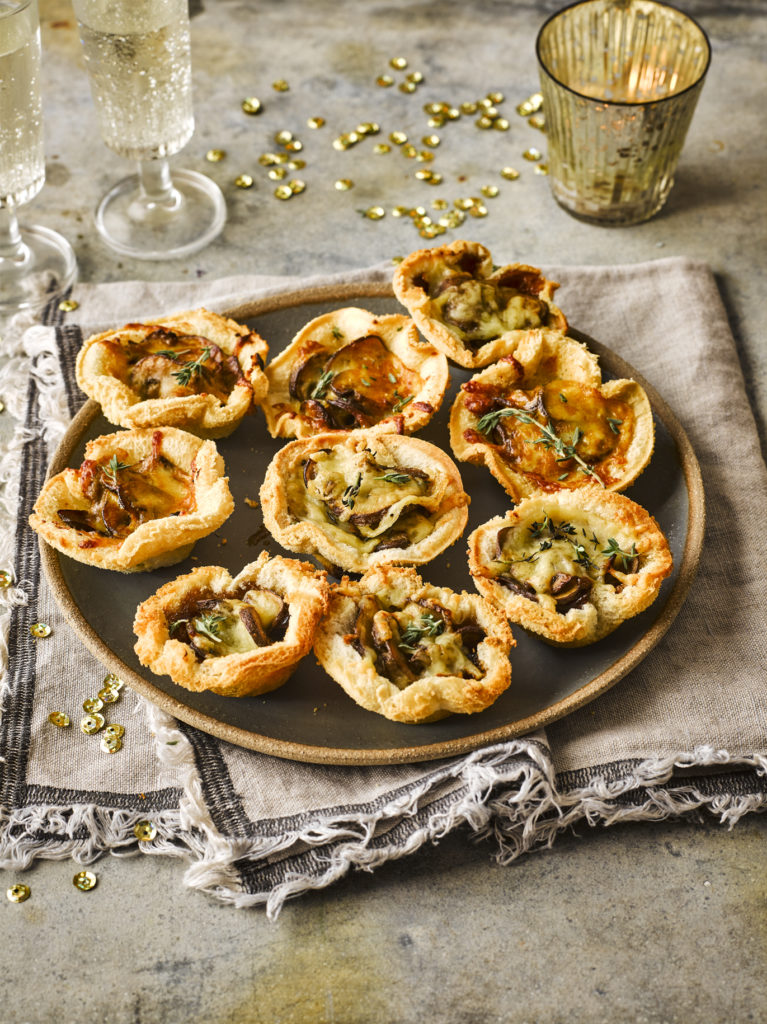 Ingredients:
1 tbsp butter
250g chestnut mushrooms, cleaned and thinly sliced
1 tbsp crème fraîche
3-4 tbsp fresh thyme leaves, finely chopped
12 slices of thin sliced white sandwich bread
butter, for spreading
4 tbsp Tracklements Caramelised Onion Marmalade
100g grated gruyère or cheddar
Method:
Preheat the oven to 220°C/gas mark 7
In a frying pan, heat the tbsp of butter, add the mushrooms and stir until the moisture has evaporated and the mushrooms ae golden. Turn off the heat, stir in the crème fraiche
Add all but a sprinkling of thyme and chill the mixture in the fridge
Cut 8cm circles out of the bread with a biscuit cutter (or a glass or a jam jar). Spread butter on one side of the circle and put it, butter side down, in a tartlet tin so that the bread creates a base and sides of the tartlet
Add a small teaspoon of Caramelised Onion Marmalade to each tartlet, top with the mushroom mixture top and a sprinkling of grated cheese
Bake for 10-15 mins until golden and bubbling. Sprinkle over the rest of the thyme and serve hot or cold
A store cupboard hero for both celebrity chefs and home cooks, the Tracklements range is handmade in Wiltshire, abiding to traditional recipes, with an underpinning principle to buy the best quality ingredients sourced locally wherever possible to ensure the products taste as good as, if not better than, homemade. Tracklements believe in business as a force for good, protecting the environment as they go. They're committed to make the most planet-friendly condiments you can buy minimising their environmental footprint through using recyclable packaging, their own water treatment facility, and over 10,000 square feet of solar panels, which enables the company to generate 100% renewable electricity that is also fed into the national grid at weekends through green energy company Good Energy. And they don't shy away from wonky veg either!
Tracklements Apple & Cider Brandy Chutney RRP £4.00 for 320g, and Tracklements Caramelised Onion Marmalade RRP £4.00 for 345g are available from fine food delis and farm shops nationwide and online at www.tracklements.co.uk.
@tracklements #tastytracklements #LifeandSoulofthePantry