Is blended whisky necessarily worse than single malt? What types of whisky go into a blend? Alex Ozga attends a whisky blending workshop to have his questions answered.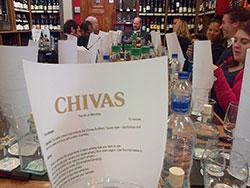 Until the Art of Blending event hosted by Chivas at the Amathus store in Leadenhall Market, my knowledge of whisky extended to knowing that first, it could be quite nice either mixed into alcoholic drinks or drunk neat, and second, that it had a profound effect on my dad if he had a bit too much of it with his chums on a Saturday evening.
Well, that isn't entirely correct – last summer I visited the Bushmills distillery in County Antrim, Northern Ireland, and learned a little about the differences between Irish and Scotch whiskies, as well as the basics of how whisky is made. But when a chance came up to learn a little more, and more importantly to make my own blend, I seized the opportunity.
Chivas hosts these events regularly in various London locations. The premise is fairly straightforward: participants are first given a talk about blended whiskies, including an explanation of the different types of Scotch whiskies that go into a blend, and then must make their own blend using whisky from all five regions. Care must be taken to ensure that the final blend is harmonious and balanced. They are then judged by the Chivas representative hosting the event, and the best one wins a bottle of Chivas 18. All participants get to take their own blend home, of course.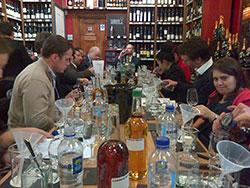 Our event was hosted by Phil Huckle, brand ambassador for Chivas UK. Huckle explains how there exists a certain bias against blended whiskies here in the UK, with many enthusiasts mistakenly imparting a greater prestige onto single malts. This, he informs us, is incorrect; there are good blended whiskies and bad blended whiskies, good single malts and bad single malts. Neither type is necessarily superior.
Huckle also tells us that curiously, the reverse bias seems to be the status quo outside of the UK; blended whiskies are prized over single malts. There is a great deal of information packed into the presentation, and Huckle has no trouble answering questions from the connoisseurs in attendance.
Next, we are given a rundown of the various whisky regions in Scotland, and the characteristics they impart onto their products.  The basis for any whisky blend, Huckle tells us, is smooth grain whisky, which makes up around 50% of any blend. In large part, it is the quantities of the other whisky types which will dictate how the final blend tastes, from the richness of Lowland whiskies, to the peaty smokiness of Islay whiskies, the powerful spiciness of Highlands to the sweet fruitiness of Speysides.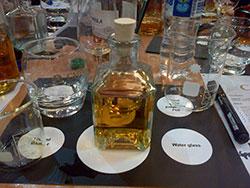 With our education more or less complete, we are ready to make our own blend. Before each individual is laid out what looks like apparatus from a chemistry class; beakers and funnels and mixers and glasses and the corked bottle into which we pour our final blend. On the table are bottles of each type of regional whisky, which we very willingly give a thorough testing to see which we like and which we'd rather use less of. Each one must be used in our final blend in greater or lesser quantity, however.
I decide on a tactic of ranking each regional whisky out of ten, then using my ratings to more or less proportion the amount of each type in my blend. I discover that the spice of Highland whisky is very much to my taste, followed closely by the fruitiness of Speyside. Lowland and grain are both okay but Islay, with its acrid smokiness, is not to my taste at all. I am told by the man sat next to me, who is considerably more knowledgeable than I am, that Islay is love-it-or-hate-it, much like a certain well-known brand of vegetable spread.
I do a trial run, mixing up smaller quantities, and am quite impressed. The blend is rich and spicy, with just enough of a smoky Islay kick to impart character and dimension. Satisfied with my work, I mix up the full 250ml and pour it into the provided bottle.
Once everyone has finished blending, Huckle comes round for the moment of truth. He smells our blend very carefully before tasting and giving his own verdict. He seems pleased with mine, and I wonder if I'm in with a chance to win that bottle of Chivas 18.
Alas, victory goes to a man a few seats down who seems very pleased with the result. I must say that it's been a fantastic evening. The neophytes have become enlightened, dab hands have learned a little more and had their questions answered in expert detail, but most importantly all go home with a product of their own doing; their own blended whisky, the result of much sniffing and tasting, which they can be proud of. If you have the slightest inkling that you would enjoy it, or want to learn more about blended whiskies more generally, I give it my enthusiastic recommendation.
The Chivas Bros. Art of Blending workshops recommence in the new year, at the following venues. Contact venues directly to book.
Gaucho Sloane, Chelsea – 16/01/14
Coach and Horses, Kew – 23/01/14
The Duke's Head, Putney – 25/01/14
The Albert, Kingston upon Thames – 25/01/14
London Capital Club, City – 28/01/14