Foxlow, 69-73 St John Street, EC1M 4AN  www.foxlow.co.uk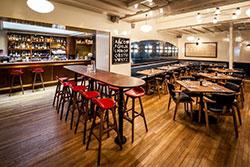 The timing of Foxlow's opening couldn't have been better. My usual go-to restaurant in Clerkenwell has been rather inconsistent of late, culminating in a shockingly poor performance that pushed me into the transfer market quicker than Mark Hughes with a blank cheque book. I'm obviously looking for good quality food, but quality service is also important.
Service is everything nowadays. Treat people with respect, enjoy your work and nothing can harm you. Foxlow's got good service. The staff are cool dudes. Hand-shakes and smiles at the door, no stuffy uniforms, they're on-hand to help with decisions and they do go that extra mile. To be fair, Foxlow is the latest opening from the Hawksmoor Group, so the staff were always going to be well prepared.
It's been years since I successfully cuckooed my older brother out of his Clerkenwell nest. It's mine now, all mine, and to be fair I'm embracing the area's thriving gastronomic scene. There are plenty of amazing restaurants around the area and Foxlow has settled in nicely. I brought Big D back to his old stomping ground to give me a corporate view on the place.
He remembered the venue under its previous existence as North Road, a Michelin-starred restaurant serving Nordic cuisine. Those days are gone now; Hawksmoor have redesigned the layout and brought a simple colour scheme of white and some sort of bluey-green, which I've been told is "on trend" right now. Stupid cool people, it's just a bloody colour.
Now, the menu is rather short on starters but you'll still have difficulty choosing. If you want something light, go for the Brixham brab with devilled mayonnaise. It's as fresh as the bright green lettuce leaves on which it lies. Otherwise, I'd say try the crispy five pepper squid, which is good but everywhere's serving crispy squid starters. However, if you're feeling naughty, and you should, Foxlow are dab hands at slow-cooked ribs…
The baby back iberico ribs to start are fantastic. They're a little fattier and chewier than you may be used to, but go hard or go home. This restaurant has elegance and sophistication, but if you want to get mucky then they're cool with finger usage. They do ribs for main course too. The eight hour bacon rib with maple and chilli is pretty spectacular. Again, it's a little fatty for some tastes, but grab some broccoli with chilli and anchovy and you'll cut through the grease easily. It's well worth trying. If you'd like a cleaner option, there's a ten hour beef shortrib with kimchi, which is soft and tender without being gone in a couple of mouthfuls.
There's also a lunchtime-only offering of the ribwich – a hybrid soft long roll filled with the trimmings from the bacon ribs and beef shortribs, nicely finished with some vinegary slaw. Obviously, it's amazing. Put together with some skin-on fries with bacon salt and I had a cracking lunchtime catch-up with Big D, who despite being in one of his most corporatey pin-stripes, reckoned he'd happily visit with friends, clients or colleagues.
The desserts are naughty. As soon as you read them you know you're going to have to hit the gym at some point. Pies, splits, popcorn, chocolate, sundaes and the intriguing peanutella and sweet toast. I tried that, of course, but it's too rich for me. It's served in a transparent Nutella jar and whilst it's great for the peanut lovers, I'm just a wimp with sweet things. I did go to town on a chocolate and popcorn sundae however.
I guess Foxlow ticks all the right boxes. It's laid-back enough to use for a catch-up yet it's sophisticated enough to use for a business lunch. At night, the atmosphere is more intimate and better suited to mates or dates. It's knocked my go-to off its mantle and I'm pretty sure I'll be using it more often. Go for the ribs, stay for the ribwich.