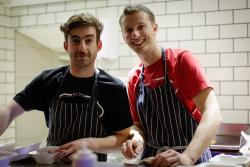 Bloody Marys and Oysters – two of my favourite things in the stuffing your gob world. Traditionalists presumably will declare both items should not be stuffed down one's gob, but there are no snooty or stuffy mannerisms about The Bloody Oysters; so, with that in mind, if thou doth protest at my opening sentence, one can expel one's protests down thy lavatory.
So the two dudes behind The Bloody Oysters are top guys. I met them whilst they worked their young aspirational butts off at one of their pop-up events and despite being bombarded with orders they still managed to keep smiling and chatting with people. You can tell they love what they're doing and fair play to them, carpe diem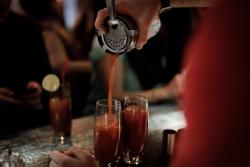 and all that, bravo dudes.
Is their menu any good? Yeah, of course, otherwise why would I bother going? Now, you may consider me slightly biased as I've already outlined both oysters and Bloody Marys to be two of my favourite consumable things, but even if you're on the fence about either or both, these are simple-yet-clever recipes that taste great.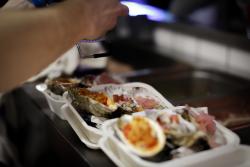 The best Bloody Marys?
There's a few variations on the Bloody Mary, none of which ming. Yes, ming, which is the technical definition for'not satisfying one's particularly fussy taste buds'. Sometimes taste buds can get rather pompous and stuck in their ways. As my colleague Claire would say,'they best know themselves. Innit'.
The cheeky option to look out for is the signature mix using stout and cucumber… But if you're a veggie, they've even got a version using sans anchovy-infused Worcestershire sauce called The Bloody Dragon, which is Asian inspired. Oooh, how thoughtful.
Now, as far as the food side goes, I'm not sure if they're rock oysters but the oysters do rock. Apologies, became a complete tosser of a writer momentarily. However, I'm thumbs down when it comes to deep-frying an oyster but if that's your bag then yippy for you, it's on the menu, philistines. Otherwise, if you're penchant is for the raw style then there's a ceviche-style offering with lime, orange, red onion, chilli and coriander – and it's awesome.
So – simple it may be, and perhaps I'm arguably too biased towards two of my favourites, but this trendy little outfit of a business has got its products bang on. Good oysters, good cocktails, nice branding and smiles all round. Follow them, find them, and thank me later.