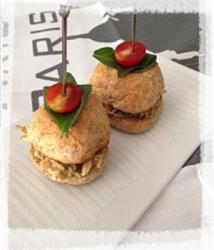 We all love a slider right? But why settle for the ordinary when you can jazz it up with a bit of jar magic.
WORLDFOODS have a range of fabulous jar sauces and from their Red, Yellow and Green Thai Sauce range we've gone potty over this use for the Green, A fiery and fabulous way to add life to your slider.
For an authentic Fusion & Asian cooking experience in your own home, you can buy WORLDFOODS sauces direct
All Foodepedia readers can take advantage of an EXCLUSIVE free shipping code on all products, please use: V2T9QF63
Ingredients
Boiled Chicken Breast (shredded) 80 grams
Oil 2 teaspoon
WORLDFOODS Thai Green Curry Paste 70g
Coconut Cream 100 grams
Mini Rolls to serve
Butter for rolls
Basil Leaves garnish
Ginger Pickle to serve
Cooking Instruction
1.Cook green curry paste in oil until fragrant, add coconut cream, cook well.
2 Toss boiled chicken with curry sauce.
3.Halve mini rolls and butter well, heat in the oven.<
4.Serve pulled chicken and buns with ginger pickle and basil leaves
Serves 1-2
More about WORLDFOODS, we review their Thai curry pastes