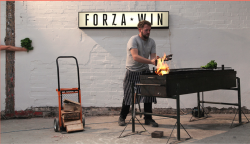 An old cash and carry in Peckham is being transformed into a Spiedini & Spritz bar…
For the past three years Forza Win could be found in many different places all over London. They've found an'al fresco' spot in which they can cook and serve communal suppers to their hearts content, year round. It won't stop them going exploring, but for summer 2014, they're staying put.
'The Dispensa' opens July 4th and can seat 70. It will be open 3 days per week plus brunches at weekends. For £25, seventy evening guests will sit down together to feast on fresh pastas, a main course of wood fired spiedini made with Ginger Pig meats, salads and a dessert. There will be a'top up' option on every course. Drinks wise, there's a beer vending machine, an Italianate cocktail bar and a natural wine list. Tickets are available online.
Their team will be working with all British produce to create an awesome and authentic Italian meal. For more information visit their website or watch this short video. 
Address: Forza Win, Unit 4.1 133 Copeland Road, London, SE15 3SN
You can also contact amber at amber@forzawin.com