92 Duke St, Liverpool, Merseyside L1 5AG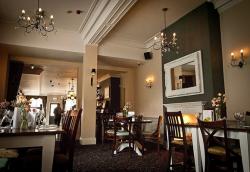 Visiting a place on Mothering Sunday probably isn't the wisest choice, but I called my mum. I said Happy Mother's Day. I'll even give her a shout-out. Hi, mum. It's not as if she reads my stuff anyway, too many animals to feed and headlines to read. Anyway, there was a one-off Mothering Sunday menu at The Monro, a pretty wicked little gastro-pub in Liverpool Land.
As far as places to go on a Sunday lunchtime, yeah, definitely a grade A candidate. It's cosy, smart but informal and relaxing. Mother's Day also happens to be one of those days where Liverpool women dress the hell up. Well done, ladies. You hear all these little whispers about Liverpool really bringing it in terms of dressing up, but when you see it in full swing on a day where everyone properly goes for it, it's an awesome experience.
There wasn't a football shirt in sight in the Monro, although they were probably all at Anfield watching Spurs get a kicking. The staff are reluctant to engage an idiot, but you can tell they sort of want to have a laugh. It's not really that kind of atmosphere though, more sophistication than hyper. Not pompous though, way too normal to be pompous.
I'm not a fan of pig and scallop. I'm obviously an idiot and don't know what I'm talking about but, hey, man, I have a voice, quit drowning me. It's not offensive as such because I like pig and I like scallops. I just think it's a little over hyped and overused. I'd rather have loads of scallops or loads of pig. So if there's an alternative combination of headline ingredients being buddied-up, I'll try it.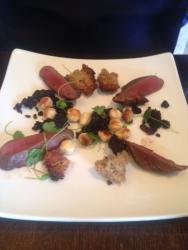 Pigeon and Black Pudding works in my head. You'd have to put them together because you traditionally don't get a lot of either in a dish. Pigeon's really nice, but you know it's only a little dude. It aint no chicken. Black Pudding on the other hand, I could eat a lot of, but for some reason, I don't think it's really healthy, so best not. Do they work together? Yeah. Chuck in some toasted hazelnuts and crunchy chunky croutons and you've got a really earthy, dry and gamey starter. Order it again? Sure, if the other dish on the menu was scallop and pig.
One thing about The Monro is they're not shy on portion size. I ordered lamb for main course and it was huge, must have come from a sheeposaurus rex. It had the usual accompaniments of potato in a creamy pureed mash form with some buttered spinach and peas placed to the side. Now, obviously all the veg was cooked perfectly. No lumps to be found in the mash, the consistency of which was thicker than soup but runnier than spackle; the spinach and peas had a bite left in them; but the lamb stole the show, as it should. Thick, moist, pink, tender but still seared suitably for the chew. Winner.
I'm chock-a-block and completely recovered from the previous night's antics, from which the morning had been a really traumatic experience. I think that's why I really dug the vibe of The Monro. In university days I'd seek out the nearest Varsity pub and grab the dirtiest burger I could find on the menu and a pint of coke. Since then, I've realised the more you treat yourself the next day, the better you'll feel. So The Monro was perfect – the food really is great and it's not overpriced.
A light dessert needed, so cheesecake ordered. That might seem strange to some but considering what I'd normally order, cheesecake is a welcome lighter option. Trick with cheesecake is it's either good or bad. Trying to pick between different versions and who makes the best one is frankly something I'm not an expert at or bothered about. I'm simply interested in whether I like it or not. I like the cheesecake in The Monro. I'd order it again, it's a good one.
Holy goose pluckers, I'm well and truly stuffed but my grogginess and hangover is gone, absolutely gone. If ever there was a perfect gastro pub for a Sunday lunch, it's The Monro. Honestly, it's going to be one of my more memorable Sunday lunch experiences because I wasn't expecting the food to be as good as it was, which isn't a disservice to the place by any means, it's just, you'll never truly understand a place until you pay it a visit. You should go to The Monro. Go for the lamb, stay for the comfort.