Making curry fast has never been easier but there's a world of difference in pastes. We put WORLDFOODS to the test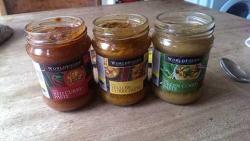 Have you ever wondered at the difference between red, yellow and green Thai curries? Is it simply about chili heat, with red being the hottest and green the mildest? Well yes partly.
Red curry paste is made with dried red chillies and drying intensifies their heat. Green uses, as you may have guessed, green chillies but these are fresh and so a bit milder. The main part of the green colour in fact comes from coriander.
Yellow? Well there are no yellow chillies, it's about the same heat as red curry paste but gets its yellow colour from lots of turmeric plus sweet yellow peppers and is most popular in southern Thailand.
Paste without the haste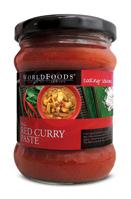 Making your own Thai curry pastes is quite possible and quite fun, if you have the time and easy access to the best ingredients. That's alright in London and other large cities but otherwise is really not a viable project especially when short of time. So most of us lovers of a good Thai curry turn to the supermarket shelves.
And there's quite a choice, including many that are actually so authentic the labels are in Thai. Now I don't know about you but I like to know what's in my pastes; I'm wary of MSG and other nasties and so while I am tempted by some of the pastes I prefer to stay in the know.
The problem is that those pastes labelled in English are all too often poor imitations of the real thing; lacking in flavour punch and heat.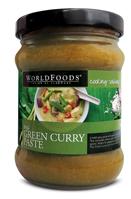 So we were happy to take delivery of red, yellow and green pastes from WORLDFOODS, a major supplier of Asian pastes and sauces but probably one you haven't heard of, yet.
Jars open and teaspoons at the ready, we tasted
First though we paused to read the English labels and they were reassuring. No MSG and food allergens free, trans-fat free and gluten free with no artificial preservatives, colouring or flavouring. Nearly all are labelled suitable for Vegetarians, Vegans, Coeliacs and Muslims. One jar should make enough for four serving portions and they keep in the fridge for a month after opening should you need less.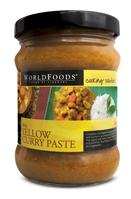 The red was sharp, tangy with a big shot of lemon grass and kaffir lime leaves and with a decent bit of heat from birds eye chillies, but not as much as perhaps a Thai person would like, but that's a good thing. You can always add heat but it's hard to take it out. We liked the hint of sour tamarind too.
The green is made of mostly green chilli and, the label says, authentic Thai coriander. This will be the smaller leaved, more aromatic variety usually using the stems as well. There's a hint of smoky cumin and galangal, the ginger-like Thai root. Not as sharp as the red and not as fiery, the paste has a refined restraint that would suit lighter meats and fish.
Yellow was interesting, the turmeric giving an earthy note that's distinctively different to the previous pastes and adding a very Indian flavour. Heat wise quite mild at first but growing as time went by.
The proof is in the woking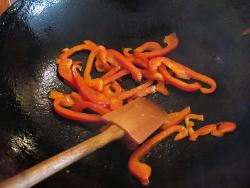 We cooked with the latter, frying some sliced red peppers on oil and then stirring in half the jar. After a few minutes the aromas came off strongly as the heat released them and we fried small cubes of chicken until they were well sealed and coloured with paste.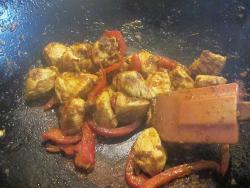 Then some coconut milk, being sure to really stir the can first to get the solids back in to avoid a thin sauce. Fifteen minutes is enough to make the sauce thicken and cling to the meat and to ensure the chicken was cooked and then we served on a simple bed of Thai rice.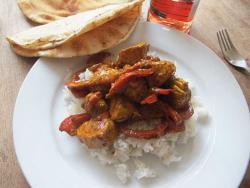 The milk works a magic; creating a silky sauce with a hint of sweetness that balances with the chilli heat. The flavours all come through individually and it's a curry with character.
Curry? Not necessarily
Pastes like these don't have to be restricted to knocking up great curries in a hurry; they can be used in plenty of creative ways such as this Slider recipe.
We'll be trying more of WORLDFOODS large range of 18 types of Asian dipping sauces, pastes, noodle sauces, stir-fry, cooking sauces and marinades and reporting back.
For an authentic Fusion & Asian cooking experience in your own home, you can buy WORLDFOODS sauces direct
All Foodepedia readers can take advantage of an EXCLUSIVE free shipping code on all products, please use: V2T9QF63