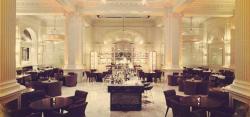 The Andaz Hotel at Liverpool Street has to be one of London's swankiest hotels these days with no less than seven restaurants and bars. Housed in the old Great Eastern Hotel it manages to still retain that old railway hotel grandeur but has a contemporary feel – the Catch champagne bar on the ground floor is regularly packed out with noisy city workers and commuters as well as the occasional couple of old ladies from Norfolk  enjoying a day out in the capital.
Hotel restaurants can be soulless and dull, but not so the 1901 restaurant and bar. Set in what was once the Great Eastern Hotel's original ballroom this is a magnificent Grade two listed room where you can sip cocktails and champagne at the centrepiece floating bar underneath one of London's most imposing original stained glass domes. It's worth coming for the setting alone, but the food is good too, based on home grown British produce and accompanied by an exciting cocktail list.
I was here to sample the'3 course charm' package, organised for me by international concierge company Lime & Tonic.
As you might expect it comprises three courses, preceded by a glass of Veuve Cliquot champagne and with just three choices for each course there wasn't a lot of deliberating over a lengthy menu
For starters I ate Beetroot Carpaccio with mixed salad, figs, goat cheese, black radish and seeds which were colourful and satisfying for something which looked so light and dainty. My guest had the Rabbit Confit with fennel and celery mousse, cauliflower, cherry and walnut. It looked lovely on the plate and the rabbit had just the right chunky texture.
His main course was a simply presented, but tasty, Artichoke Risotto with courgette, baby carrot, broccoli, parmesan and truffle oil. He pronounced this exceptionally tasty while I ate Plaice Fillet, pan-fried, with coco beans, chorizo and coriander. The fish had a delicate flavour which the coco beans enhanced rather than smothered and I was delighted to note that, unlike in many dining establishments in this part of London, portions are neat and not overwhelming. Not all City diners are eating for England!  
With plenty of space for dessert we relished the Raspberry, Lychee and Ginger Cheesecake with violet liquor jelly, lavender sugar, chantilly cream and lemon sorbet which had a lot going on but lived up to its lavish description and the White Chocolate Flexi Ganache- Burnt white chocolate and mandarin Sorbet, while very sweet, was a glorious ending to an evening in a really lovely setting with very attentive and smiling staff.
While we ate we watched the bar tender swizzle and swirl his cocktails from the centre of the room and behind me was a wine and cheese cellar where I'm told guests can partake in an evening of wine and cheese tasting with sommeliers and cheese specialists
Lime & Tonic is a'concierge'service which finds interesting deals on meals and activities not just in London but all over the world.
The three course charm at Andaz is priced at £30 per person for members including a glass of champagne.