Tapas have come a long way since their genesis in 17th century Cadiz. Today across the world they represent the culinary identity of Spain. Alan Kingsbury travels to the Spanish National Tapas Competition to discover some of the magic that makes these little food follies so fascinating.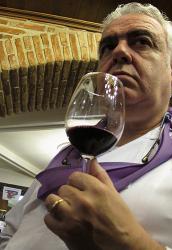 'Paco' the Chef prowls like a dominant silverback gorilla through his maze of antique rooms swooping occasionally on a guest's wine bottle with a theatrical flourish to'steal' a glass.
I have just arrived in Valladolid and wasted no time in making my way to La Criolla, my favourite restaurant in the city and one of the 'Holy Trinity' among the plethora of tapas bars in the downtown area. Paco's tapas are sometimes homely, sometimes sophisticated and always sublime, like the turkey, softened nearly to a pulp in white vinegar then gifted new texture with thinly sliced apple and cucumber.
His secret is authenticity, one of the few elements in life that cannot be bought. It's the kind of authenticity that came down through our grandparents, a precious commodity from another age. He slurps on a healthy glass of my Abadía Retuerta Selección Especial 2009; I guess I'll have to order another bottle.
Competition Nerves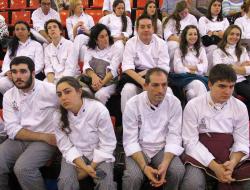 Next morning I make my way down to the Millenium Dome (yes, they have one too), where the first rounds of the tapas competitions are taking place. Everybody is hyped.  The nervous contestants wait in anticipation of their turn in the mini kitchen booths where small mistakes may prove catastrophic. 
It's the International culinary schools section and superstar chef Joan Roca is calmly sitting centre stage as guest juror. What's his secret? I don't know; unrelenting perfectionism perhaps. The stars must surely have been in alignment on the day he was born for Can Roca to be voted no. 1 restaurant in the world. His presence gives the event a certain gravitas.
In the booths the contestant chefs work with the focussed intensity of neurosurgeons oblivious to the inquisitive pressure of the national press. Their secret is meticulous preparation; they have rehearsed again and again for this moment.  As each prepares their micro food sculpture, glamorous assistants rather like air hostesses are poised to present the finished work to the judges.
The judges in turn wait patiently. Then the call is made, the tapas appear, one snap of the iPad, one sniff, one bite and it's all over, the score is covertly entered in the book.
Tapas on the Town
It's evening and I hit the Valladolid tapas trail again. I visit Restaurante Angela where Chef Jesús Alejos won last year's'Tapas d'Oro' with his'White Lady Dressed in Black' a curious looking construction that consists of squid and other ingredients blackened with squid ink.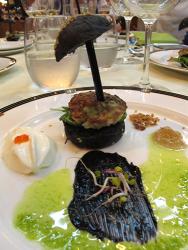 Unsurprisingly, it tastes of squid. That's fine by me, I love squid and It gives me a chance to discover a superb local white wine; José Pariente Verdejo whose minerality, depth and refreshing acidity qualify it as  perfect vino blanco for the tapas explorer.
Jesús' secret is experimentation – he's always looking for new angles on basic ingredients and his tapas sometimes employ funky support contraptions that require a little explanation; It's all great fun but experiments can sometimes go wrong and for me, his pig's trotter, boletus and foie tapa takes 'richness' past the red line of excess. As politely as I can, I down my fork after first bite.
With competition frenzy running high in Valladolid, I'm beginning to feel that the only important things in life are tapas and wine.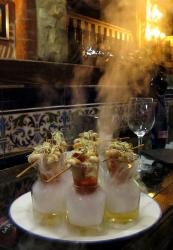 No time in the city is complete without a visit to the mythical  bar of Los Zagales where I'm greeted by 'Tiera-Mar-Aire' a trayload of upturned calamares shooting plumes of dry ice. Chef Antonio Gonzáles welcomes his guests with quirky, theatrical and unexpected tapas that are unashamedly designed to entertain.
Banners celebrating his many competition successes hang over the bar like military colours, for Antonio's secret is surprise. Sometimes visual, like his famous'Tigretoston' a small pork tapa masquerading a kiddie's candy bar; sometimes conceptual like the legendary'Obama in the Whitehouse' consisting of grated black truffle over egg served in a miniature white tureen.
Culinary Climax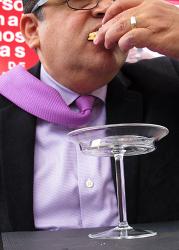 Back at the dome the competition is really hotting up as ambitious young chefs from all over Spain are now fighting it out for the coveted top tapas accolade.
I've made friends with one of the Judges, Fernado Salazar, a natural born food evangelist and one of the prime movers in this drive to raise Spain's game on the world's culinary stage.
Fernando's secret is to to flick his expensive silk tie back prior to each critical savouring. He has learned, to his loss but to his dry cleaner's gain, that tapas frequently squirt, crumble or drop unpredictably.
The last entry is munched, the last score noted and I jostle for position at the front of the crowd to get a glimpse of the soon-to-be-annointed national hero.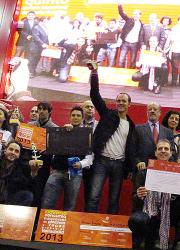 And the winner of the 2013 National Tapas Competition is…. 
Pause. Very long pause.  Wow, this is serious stuff. Forget the X Factor, these little morsels of nosh carry huge cultural clout here in Spain. 
It's Pedro Martino of Asturias with his 'Coulant de Cocido de Garbanzos'!
Mayhem ensues as the press rush forward to interview Pedro, the anchovy falls off my tapa and a glass of Pesquera Tinto 2011 ends up all over my shirt.
Drenched but with my enthusiasm for tapas undampened, I slip off into town to discover some more playful, creative and occasionally crazy bites remembering my own little secret; if you want to last the whole day in the tapas-mad city of Valladolid, never finish your tapas. They are more filling than they look.
______________________________________________
Alan flew Easyjet from Gatwick to Madrid and tranferred to Valladolid by train (around 1hour) staying at the 5*Hotel Marques de la Ensenada.