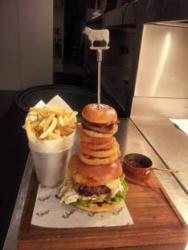 Whatever happened to the humble hamburger? When did the world's obsession with the monster burger begin? It's hardly a new phenomenon I suppose; Elvis was stuffing peanut butter and fried banana burgers down his mush over half a century ago, much to his detriment.  But by today's standards, the King's excesses seem almost pedestrian.
Food is about more than just taste; it sustains and it comforts. On an instinctive level, having more on your plate than you can possibly eat is deeply comforting. As burgers are the very definition of comfort food, when I have one, just like everyone else, I want it BIG. I do have a strict(ish) rule though when it comes to comfort eating; if I am going to gorge myself, then it has to be on delicious food.
London's newest super-heavy-weight burger, ominously named The Stack comes courtesy of Malmaison Hotel's resident restaurant. Blow for blow, The Stack pans out like this:
A quarter -kilo (!)  beef patty, gruyère cheese, bacon, baby gem lettuce, onions, tomato,  onion rings all sandwiched between a glazed brioche bun.  As if that wasn't already enough, a bonus foie-gras slider sits at its summit. A side of fries and a cute copper pan of relish complete the dish. The Stack owes its gravity defying structure to a broad-sword sized skewer that runs through its core.
Malmaison is a classy looking restaurant with dimmed lights, a sensual burgundy colour scheme and luxuriously upholstered furniture. It is not the kind of place you want to be seen with meat juice dripping down your chin, so eating The Stack presents something of a logistical challenge. I considered using a knife and fork for a millisecond but ultimately did it the old fashioned way. I drew out the skewer like Excalibur from the stone, lifted the meaty monolith to my lips and took my first jaw dislocating bite…
The core flavour of The Stack emanates from the juicy inch-thick patty. The beef is aged for 28 days, ground and seasoned: simple, unfussy, delicious .  The sweet cured bacon is of an exceptional quality and nutty notes in the gruyère give a sophisticated complex edge. The onion rings snap and crunch as they should and the bun gift wraps the savoury contents in a semi-sweet parcel.
The fries are crispy on the outside and fluffy in the middle. They taste twice fried, but as that feature isn't mentioned on the menu I have to assume they aren't – chefs don't tend to go extra effort with chips unless they are damned sure people will know about it.
The foie-gras slider had me a little stumped. It seems a gaudy way of elevating (both metaphorically and vertically) The Stack above the status of a "common" burger. Frankly, the quality of the ingredients had already proved the superior nature of The Stack, rendering the presence of the slider somewhat incongruous and superfluous. But as a little thing to eat, it was delicious. It couldn't really fail as brioche, red onion marmalade and foie-gras is one of those holy trinities of food.
Ultimately The Stack defeated me – I didn't finish the whole thing. I'd have been in with a shot though, had I not also scoffed a second foie-gras slider, courtesy of my dining partner's ethical aversion.
After a brief rest, I did find space for dessert and am glad I did. Malmaison's strudel and brandy cream deserves a special mention for its light pastry, delicate crunch and unctuous filling.
Malmaison's restaurant is a lovely space and ideal for a romantic tete-a-tete. Be warned though; if you are romancing – a giant burger is hardly an aphrodisiac (trust me.) But if you do fancy a burger and, like me, your desire for quantity is reliant on quality then I strongly recommend you give The Stack a go.