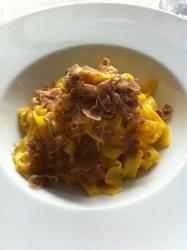 Angela Hartnett launches the first of the Fortnum & Mason Chef's Dinners series on 21st November with a  seasonal White Truffle Dinner in The Fountain restaurant.  Fortnum & Mason Chef's Dinners will be regular events in The Fountain restaurant to highlight the very best Chefs in the UK cooking with the very best seasonal produce.
To start, for one night, Michelin starred Chef, Angela is bringing her Italian roots from Murano in Queen Street to Fortnum & Mason in Piccadilly.
Angela said: "The offer to create a truly seasonal menu with White Truffle and cook at Fortnum & Mason was an opportunity I couldn't miss.  White Truffle is one of the remaining seasonal foodie delicacies. 
Ewan Venters, CEO added: "We are delighted to welcome Angela Hartnett one of the country's leading female Chefs to The Fountain and launch the Chef's Dinners.   The passion for the best seasonal produce is at the heart of Angela's work and the ethos of all Fortnum's offer.  We love the friendly and informal approach Angela takes to cooking, a natural fit for Fortnum's!" 
This year's yield is exceptionally precious and scarce as white truffles are impossible to cultivate only coming from wild sources.   The white truffles Angela will cook with come from the Alba region.   
The menu Angela Hartnett will cook on the night in The Fountain is a 5-Course Tasting Menu:
Antipasto
~
Roasted Pumpkin Soup, Sautéed Scottish scallops
~
Carnarilo Risotto 18 month Parmigiano Reggiano
~
Guinea Fowl, Celeriac Puree
~
Baked Vacherin Grilled Charlotte Potatoes
~
Pear Torta, Vanilla Ice Cream
~
Coffee and Biscotti
Each guest will receive a signed copy of Angela Hartnett's Cucina: Three Generations of Italian Family Cooking.
Dinner is £150 per head, guests can choose from a wine tasting menu of carefully selected glasses to go with each dish.
Bookings 0845 602 5694