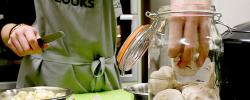 Fancy being a food writer? Well the first thing you need to know is that there's no money in it. You'll need to be independently wealthy or have a rich and supportive partner. Still interested young Skywalker? Then read on you must.
Blogging means that anyone can write about food. But how do you go about it? What are the tricks of the trade? And what do you do when you upset a 2 star chef with your opinions on his cooking and he comes after you on Twitter with a virtual cleaver?
These four week courses at Blackheath Cooks , will cover everything from writing reviews and pitching features and book ideas to editors, to blogging and recipe writing.
Led by experienced media tutor and food writer, Nikki Spencer, the unique sessions – which will take place around the large dining table in Blackheath Cooks' purpose-built kitchen in South East London – will really get the creative juices going with a freshly baked cake or inventive snack every week – all in the name of research of course!
Each course will also include a "Meet the Expert" Q&A session with a cookery book writer or established blogger.
Blackheath Cooks was set up by Joy Neal in 2010 with the aim of  " putting the fun back into cooking ". They offer an affordable and extensive range of cookery lessons for all ages and were shortlisted as finalists for Best English Cookery School in the British Cookery School Awards 2012 and also Best City Cookery School and Best Community Cookery School in the Looking to Cook Awards 2012.
Joy decided to offer Food Writing courses after meeting Nikki when she visited the school to write about their popular monthly supper clubs.
" I think it's wonderful that anyone can write about food now but ,as with anything, it is very useful to get a good grounding in the basics", says Joy.
" Nikki is an inspirational teacher and as it is only a small group (max 10 people) we can tailor the course to suit those that come along", she adds.
" What I love about this course ", adds Nikki, " is that rather than just talking and writing about food we also get to sample some of Joy's freshly baked culinary delights too."
The food writing courses start in January so are a perfect Christmas present. They cost £105 for four evening or daytime sessions and can be booked at www.blackheathcooks.co.uk or you can call 020 8269 1331 to find out more.
The evening course starts on Tuesday Jan 15th and the daytime course on Jan 17th.
Blackheath Cooks, cookery school and cookware retailer, is at 13,Old Dover Road, SE3 7BT.Nearest train stations are Westcombe Park or Blackheath.