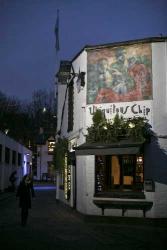 One might assume that Glasgow is better known for deep fried curry pizzas and Lulu than its fine dining and groundbreaking arts scene, but that would of course make one a silly auld bampot.
This is a certified UNESCO City of Music, don't you know, home to more than 100 art, design, dance and music collectives and a prodigious output of Turner Prize winners to boot. Leading the pack on the food front is The Ubiquitous Chip, which this year celebrates its 40th birthday.
Voted by readers of The Good Food Guide as the best restaurant in Scotland, 'The Chip' is something of an institution and has long been a supporter of the arts, most notably the lauded writer and artist Alasdair Gray who, many years prior, painted a mural covering an entire wall of the restaurant 'in return for his tea."
Located in the quaint cobbled backstreets of Ashton Lane in the city's West End cultural heartland, it's a curious labyrinthine place with a sky-lit courtyard, complete with vines and water feature, an upstairs brasserie, bridged mezzanine, a 'big pub' and a 'wee pub'. I found it hard to get my bearings but this was mainly because all the lights were off.
The lights were off because this was the preview night for The Chip's much hyped Ingr3dients event – the world's first interactive 3D dining experience. With talk of shape shifting seabeds, flying pigeons and cows wandering among tables, how could I not spend 14 hours travelling 900 miles there and back to experience my first five course digital dinner?
Devised in cahoots with Gray and digital artist Debs Norton, this is a sensory spectacle from the moment you step through the front door. Blinking in the half-light, pupils working overtime, I'm offered a pair of 3D specs and the arm of a noble young waiter, who guides me over the cobbled courtyard to a row of tables directly in front of a wall, projected on to which is a giant rolling sea (or is it sky?) scape – Alasdair Gray's first digital mural.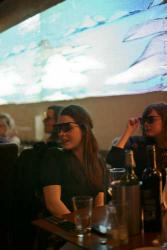 My attention, however, has already been hijacked by the pool of fishes swimming across the floor that supposedly respond to human presence by clustering round your feet. There were possibly a few too many humans in too small an area, as the fishes got a bit confused and just sort of shimmied in a nervous posse, which all in all was something of a damp squib.
Back at our table, draining our welcome flutes of Champagne, we squint at the opposite side of the room where the main 3D action will unfold. Anticipation is high and the air is filled with a low, monotone drone – soothing and unsettling in equal measures. Each course is then introduced by a projected visual montage (glasses on) of the beast you're about to eat, before a brigade of waiters serves the dish (glasses off, tuck in, repeat).
While I wasn't expecting Avatar mark II, I was secretly hoping for the food equivalent of Princess Leia to be beamed in miniature form at my feet. Help me, Obi-Wan Kenobi, you're my only hope. Surely Hollywood special effects circa 1977 have reached Glasgow's inner city artists in the three decades since?
Through the slightly underwhelming, motion montage of CAD drawings, there were occasional glimpses of reach-out-and-touch-it 3D wonderment but for me the real star of the show was the food. Devised by second generation owner Colin Clydesdale, the Ingr3dients menu proves beyond doubt that Scotland has a rich culinary heritage and that The Chip's many accolades are well deserved.
A tassie of Cullen Skink, accompanied by a giant virtual haddock, was softly smoked and creamy, while the Seafood Trinity was nothing short of sublime. Arranged in a row is a trio of fragrant dulce and mirin ceviche style queen scallops; a thick sliver of organic Scottish salmon cured in beetroot and Black Bottle whisky; and a choucroute of succulent crab, pear and celeriac. The glare of the Gray mural illuminates our plates.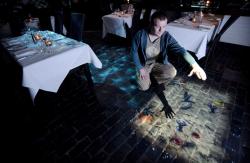 Next came a pressed terrine of Perthshire game birds, Puy lentil and shiitake salad and sherry and walnut pickled enoki mushroom. While the salad had vim, the synthetic looking terrine wasn't gamey enough and was frankly forgettable. Not so the Rioja glazed shin of beef, a roundel of slow cooked tenderness, served with a marrow beignet, shallot essence and sage gnocchi. A couple of green vegetables to cut through all this meaty richness wouldn't have gone amiss but then again, we were in Glasgow…sorry, couldn't resist…
To finish this most extraordinary of nights, came The Chip's 'famous' Caledonian oatmeal ice cream with caramelised banana and Angostura rum-fattened golden raisins: sweet, light and barely-there boozy. There follows tea, coffee and a snifter of Black Bottle to see you home.
Domestic 3D might be in its infancy but the inventiveness of Ingr3dients is ahead of its time and takes the concept of restaurant-cum-gallery space to another level. The experience only runs Monday – Thursday until 31st March and then for the month of October, avoiding the lighter nights of British Summertime, so if you can't get there this month, book ahead for what is likely to be the most original night out you'll have this year.
The Ubiquitous Chip, 12 Ashton Lane, Glasgow, G12 8SJ