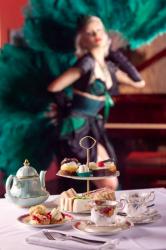 When the temperature goes down and the Christmas lights turn on, we all know it's that time of year when after work Christmas drinks linger well into the night and it gets harder to face the cold ride home.
London loves a party, especially a Christmas themed one, and so we've made a list of the top 5 places to go this Christmas for an after work drink or a Saturday night social. From cloistered booths to large open spaces, cabarets to ski lodges this selection will have something for everyone from Chelsea to Canary Wharf.
Volupté
Supper and a show is exciting on any given day, so you can imagine how much fun it is given a fabulously flamboyant festive twist at Volupté. Provocative performances accompany seasonal set menus for camp Christmas cheer at this City-based cabaret supper club.
Volupté, 9 Norwich Street, EC4A 1EJ T: 020 7831 1622
www.volupte-lounge.com
The Well
Enjoy Christmas in the stylish surrounds of a Swedish ski lodge this year, all without having to leave London. Found downstairs at The Well, this Scandinavian pop-up is sure to add snow style to your Clerkenwell Christmas with sumptuous set menus and more rustic charm than you can shake a candy cane at.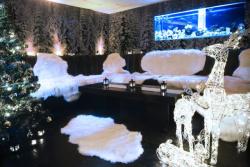 The Well, 180 St John Street, Clerkenwell, EC1V 4JY T: 020 7242 9122
www.downthewell.co.uk
The Parlour
White-collared city guys and pencil-skirted city gals pick The Parlour for their Christmas parties, and it's not hard to see why: from hiring the whole venue for champagne receptions to indulging in intimate dinners on the al fresco terrace flanked by fire pits, it provides a sexy, sleek space in which to see in the season.
The Parlour, The Park Pavilion, 40 Canada Square, E14 5FW T: 0845 468 0100
www.theparlourbar.co.uk
The Cadogan Arms
Made in Chelsea takes on a whole new meaning at The Cadogan Arms, which welcomes Sloaney Ponies with a heartwarming menu of Christmas classics, and a number of private dining options when it comes to getting a well-groomed group together.
The Cadogan Arms, 298 King's Road, SW3 5UG T: 020 7352 6500
www.thecadoganarmschelsea.com
The Stonhouse
Pull a Christmas cracker at The Stonhouse, where Clapham's coolest kids come out to play for the party season; whether sidling up against a sexy stranger in a booth or gossiping with a group of friends beside the fire, there's plenty of love and laughter to be had.
The Stonhouse, 165 Stonhouse Street, SW4 6BJ T: 020 7819 9312
www.thestonhouse.co.uk