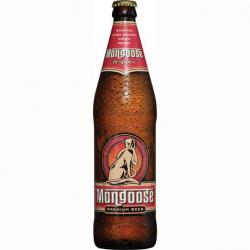 If you remember your Jungle Book, the film or the book, you'll recall that the only creature brave enough and tough enough to take on the fearsome Cobra was the mighty Mongoose. So it's a cheeky bit of branding for Wells & Young to call their new beer, one aimed at the curry loving market, Mongoose beer. They clearly have their sights set on the big snake of curry house lagers.
Many upmarket, and for that read 'expensive', Indian restaurants will hire fancy wine consultants to create a wine list that designed to match spicy food. It helps them sell wines which, compared to beer, they can mark up for serious profit. Even so, most people will still prefer a cold lager to a wine and Cobra started the trend for less gassy lagers to help diners eat and drink without exploding afterwards. Unfortunately, despite popularity, Cobra has had its own digestion problems and financial difficulties.
Mongoose then is basically Cobra reloaded, allegedly better than the original but also much the same. This is not illegal for various reasons, chiefly that Wells & Young can claim to have rights to the original Cobra recipe and so can do what they want with it. Can Mongoose beat Kingfisher though to win the hearts of the Saturday night curry cramming British public?
It gives good head, that's the first thing you notice. I hate lagers that come up to the glass edge with not a hint of foam. It has reasonable hoppiness, needed to clear the palate after a mouthful of spice, and quite a light finish and little gas despite the head. The colour is pleasantly pale and golden and the sweetness, which is not what you want when drinking it on its own, is just what you need as antidote to chili. In fact the hotter the dish, the more Mongoose starts to score.
Like its rivals it comes normally in a big bottle, enough for the average person for a meal, well okay maybe you'd have two. There is a smaller bottle available and it can be on draught if the restaurant wants to make the commitment, but personally I prefer bottles.
I'd buy it in a curry house over KIngfisher which I've never thought much of. I'd certainly buy it instead of wine. Yes Mongoose should take a good bite of the curry house beer market.