Treat yourself to a mini moment of pleasure with the greatest addition to the Magnum Minis range – Magnum Mini Liqueur.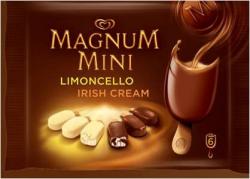 Magnum combines its classic Mini range with alcohol – Irish Cream and Limoncello – creating the perfect mini 'me-time' reward.
Within the Magnum Mini Liqueur pack are two contrasting, but equally indulgent flavours. The first boasts smooth Irish Cream flavour ice cream with a swirl of Irish Cream sauce and is coated in thick milk chocolate – perfect for those in search of a winter pick-me-up.
For those looking for something light and fruity, the pack also contains a Mini with a touch of Limoncello. Made with tangy lemon ice cream and encased in cracking white chocolate, the swirl of limoncello sauce makes it a perfectly refreshing after dinner reward.
Both flavours are guaranteed to enhance your 'on the sofa' moments this winter, with their smooth milk chocolate shells, the Magnum Mini Liqueurs tantalise the taste buds and give you maximum pleasure in a small and perfectly formed Magnum package – the ideal festive indulgence.