Suda, 23 Slingsby Place, London WC2E 9AB www.suda-thai.com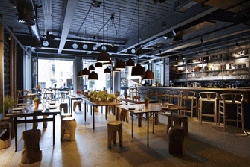 Being at the ambassador's party among life size marionettes, not to mention the piles of indigo butterfly pea rice, was a warming experience for an October evening. This was the Thai ambassador and the party was at Suda, the 'Siamese rice bar", or more correctly, swanky Thai restaurant, officially opened in autumn at London's Covent Garden.
On launch night, Suda's owner, a famous singer in Thailand, and lots of Thai dignitaries, swooped merrily around the central rice exhibition – still there at time of writing – on which aforementioned butterfly pea rice posed with other mounds of intriguing grains, here a red Sangyod, there a black jasmine rice and by the orchids, sticky brown.
The male marionette, some kind of prince, was being manipulated by a brace of athletic male puppeteers. As they danced past, the puppet pecked me on the cheek and twirled on. In stylised choreography, Prince vied with the puppet Princess whose articulated limbs were being moved by three elegant female puppeteers.
This introduction to Suda, a black and white hi-tec midrange restaurant in the most modern St Martin's courtyard, was enough to entice me back. A fortnight later, H and I went to sample its food. First, what of this Siamese rice bar, I asked? Despite 'rice bar" being emblazoned on the napkins, I discovered there is no rice bar per se, the idea being to promote the fact that Thailand is a titan exporter of rice, some of which you can try here.
So we tried some rice and other stuff. Pandan-wrapped sea bass with coriander root and sesame came in triangular parcels of fibrous green leaf which you unpacked. Inside was delicious, buttery soft flesh licked in a strong sesame film. I couldn't taste the coriander but the dish was lovely anyway. The syrupy sauce, however, overpowered the delicate taste of the sea bass. H loved the signature fresh rice wraps with braised duck and herbs which were nice and minty. The Thai eggplant salad with scallops and chilli mint dressing was an usual looking dish, anaemic-looking blanched aubergine stalks, white and soft, but tasted good with the fishiness of the scallops.
My Thai green curry with beef, recommended by the waiter, was flavoursome but watch the two-chilli marked dishes on the menu – this was a firestarter – and was almost impossible for me to eat. I loved the little green Thai pea aubergines that popped in the mouth. The beef was a little tough although the beef in H's noodles was tasty and tender. Her dish, which she polished off within minutes, was very good for its price and well-rounded in its composition.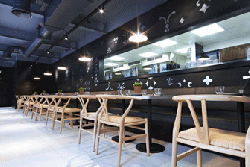 Our classic spicy salad was a tangle of carrot and papaya strands steeped in fish sauce and nothing like as brutal in its flavours as authentic salads. But the Anglicised version went down well anyway as we could fool ourselves into hoping it was three of our daily five portions. We were advised to have traditional sticky rice with it, 'little balls of rice" said our waiter, but this was a bit of a disappointment, different to what I'd experienced in Thailand – not glutinous or sticky enough and no 'balls" to speak of.
Having rice as part of the puddings after so much other filling rice-based dishes could do with some revising too: we were both way too full to try pudding.
Yet overall, it was an enlivening experience. The place seemed child-friendly – unusual for a Covent Garden café – with its baby changing room and a toddler attracting coos from the waiters. Clientele was after-work, smart 20 and 30-somethings, mainly women catching up with a bit of gossip. Service was excellent, perhaps the flourishes and bows a bit OTT but who doesn't want to be treated like a princess, albeit a wooden Thai puppet princess?