As the weather cools down, the oven warms up. It's time to get out the baking trays and rolling pin. Home made baked treats can brighten any day, and are a wonderful alternative to bought gifts and prepackaged sweeties at Christmas time.
To grease the wheels of the baking machine, I asked pastry chef Liz for some advice to help us home-bakers get better results in our kitchens. From room temperature eggs whites to the dangers of over-mixing, we'll not only learn the golden rules of baking but we'll find out why these pearls of kitchen wisdom work.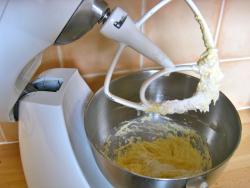 Eggs
1. When making a meringue, always use egg whites at room temperature. You will get greater volume than if they are cold.
2. If you're using an electric mixer to whip your egg whites, finish the process by beating by hand for a more even texture.
3. When combining eggs and sugar, mix them immediately. Don't leave them uncombined in the same bowl or the sugar will 'burn' the eggs and create lumps in the mixture.

Pastry Rolling
4. When rolling pastry, always roll in the direction you're facing. Never roll side to side, rather, turn the pastry so it's always facing the right way. This will ensure a more even thickness.
5. Keep the scraps of your pastry and put together in a loose ball. Place in the fridge for minimum 2hrs and once returned to room temperature – you can re-roll it and have another tart base! No wastage, but bear in mind this dough will be slightly tougher.
Jam
6. If you make jam and there is a little bit of foam on the surface, add a small knob of butter. Stir it through and the foam will disappear.
7. Give your pastries, a glossy surface by brushing them with a mixture of apricot jam and water. Simply heat together some jam and dash of water and mix till smooth and brush over the pastry.
Nuts
8. Pre-roast your nuts before adding them to your next batch of cookies or brownies. Roasting brings out a better, richer flavour in the nut, which can sometimes be lost once they are immersed in a wet batter.
Dough
9. When making muffins or any light crumb cake, avoid over mixing as this will make for a tough batter. It's ok to leave small spots of flour, as they will be absorbed into the batter during baking.
10. Chilling your cookie dough before baking will prevent excess spreading in the oven.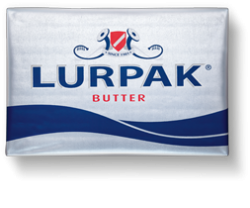 To motivate our readers to bake up a storm at home, Lurpak is giving three lucky Foodepedia readers Lurpak Christmas Baking Kits. Enter this competition, by simply commenting at the bottom of this article with your secret baking tip. The best three tips will win a Lurpak Christmas Baking Kit comprising of – Limited edition tea towel designed by Stuart Gardiner, Lurpak voucher and baking tin.
To win more Lurpak prizes and get some great ideas and recipes for the Christmas season, visit www.lurpak.co.uk and the Lurpak Facebook Page where they'll be giving away heaps goodies leading up to Christmas.