Valentine's Day is the one day a year when you can shout your love from the highest hills and, though people can try and moan, they can't do nothing about it. It's a day of gift giving, card exchanging, flowers, mix tapes and all the lovely things we should say and do every day, but by gummit we're British and it's just not our way.
Feb 14th is fast approaching, and really by now you should have an idea of whether you're staying in or going out. If you fancy cracking open your finest red and laying on some sweet, sweet moves, at least let Foodepedia guide you through the cutest'lil extra treats to make your Valentine's day divine.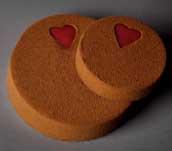 Peyton and Byrne's Valentine's Treats
A selection of Valentine's goodies are available at Peyton and Byrne's modern British bakeries, and they are richly romantic with
Marshmallow Kisses – 12 per pack £3.75 takeaway'Melt Your Heart'
Individual Chocolate Mousse Cake £3 takeaway/£3.60 eat in bakery and Heart Cake' Decadent Chocolate Cake with Strawberry and Rose Turkish Delight Layers. Also available as a Celebration Cake £26.50 Or as a smaller cake £10 (serves two)
Wellington Street (WC2): Monday-Friday 8am-7pm, Saturday 9am-7pm, Sunday 10am-7pm
St Pancras Station (NW1): Monday-Friday 7am-8pm, Saturday 8am-7pm, Sunday 9am-7pm
Central St Giles (WC2): Monday-Friday 8am-4pm
In the Maca-mood for Love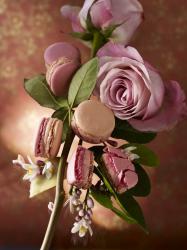 What is Valentine's Day without a heart-shaped box? (Sit down, Courtney Love this doesn't concern you!) Sick of the standard melt-in-the-middle standard? So is the "Picasso of Pastry" Pierre Hermé. Perfect for the Blair Waldorf in your life, get your hands on the Valentine's collection which includes the Macaron Fleur D'Oranger, Rose & Gingembre (Orange Blossom, Rose & Ginger) and an assortment of Chocolate Bonbons. If you like the sound of Infiniment Vanille, Ampa, Ispahan and Mogador topped with a small chocolate heart, this is the V-Day treat for your sweetie. The collection will be available from the 27th January to the 16th February 2014.
Loving You is Cheesy'cos You're Beautiful
I always knew Valentine's Day was a little on the cheesy side, but this is ridiculous. Artisan cheese maker Godminster is launching a new gift set called Heart to Heart. Compromising of Godminster's burgundy heart-shaped Vintage Organic Cheddar and its new handmade Organic Heart Brie, Heart to Heart seems to be a good gift for the cheesy lover in your life.
The new heart-shaped brie is hand-made using fresh organic milk delivered directly from Godminster Farm, where its dairy herd grazes in the heart of rural Somerset. Each cheese is hand-made by Godminster's skilled artisan cheese-makers and has a smooth white rind and velvety centre. The lurrrrve heart theme continues with the Vintage Organic Cheddar. Matured for 12-14 months and made using a 70-year-old recipe, there is a Ched-load of flavour to be had.  
Godminster's Heart to Heart gift set contains a 200g Vintage Organic Cheddar Heart and a 150g Organic Brie Heart, retails at £17.45 including p&p, and can be bought here.
Sweet Like Chocolate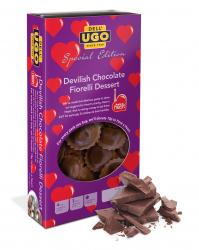 Ugo Foods, the UK's fastest-growing manufacturer of chilled pasta has launched its new Special Edition Devilish Chocolate Fiorelli Dessert– the first fresh chocolate pasta on the market.  Not only a choco-tastic V-Day novelty for you and yours, 10 pence from each pack of pasta will be donated towards Heart's charity Have a Heart, which raises money to support disadvantaged children across the UK.
Have a Heart is currently focused on helping the thousands of families who have a child with a life-threatening or life-limiting illness. Children's hospices provide care and support 24 hours a day, 365 days a year, and support from Have a Heart will enable more families to be supported by this invaluable service.
The new Special Edition Devilish Chocolate Fiorelli Dessert is presented in a passionate bright purple 250g pack that serves two. The dark chocolate pasta shells, made with 100% pure unsweetened cocoa are filled with a creamy chocolate filling. Smooth, baby, real smooth.
From Cadbury's With Love
It's okay. We know that there are some of you hopeless romantics (emphasis on hopeless) that will simply forget to get the macarons, cheese n' choccies. Cadbury's have you covered. The Cadbury'With Love' chocolate box might not be the most inventive of Valentine's candies, but come on! At least you can say that you tried. Plus, they come in two packaged sizes: a sharing box, 180g, RRP £4.00 for those that you reaaaally love and a personal box, 48g, RRP £1.50 for those you're just fond of. Both ranges are now available at all major supermarkets ready to save your unromantic arse this Valentine's.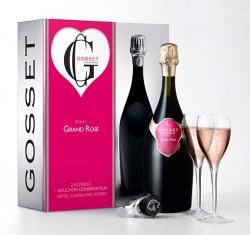 Gosset Grand Rose Gift Pack
Champagne Gosset is the oldest wine house in Champagne established in Ay in 1584 and is owned by the Cointreau family. 1 bottle of Gosset Grand Rose Brut NV 75cl, 2 Gosset branded champagne flutes and a Gosset champagne stopper.
A strong, bright and clear salmon-pink hue, embellished by flighty ruby-red reflections that sporadically revive and exalt the colour of this wine.  The finish is remarkable, delicate and refined thanks to an effervescence which is quietly soothing whilst the wine develops its pleasurably persistent gingerbread aromas. Available from Champagne Direct for £75
And for a cosy date on the sofa at any time of year, Champagne Jacquart Brut Mosaïque, NV (£28.50) is great. This is a balanced and classy blend with a luscious and mouth filling mousse that releases warm, golden honeycomb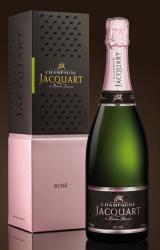 and a magical sprinkling of stardust.