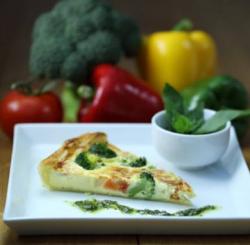 This classic dish combines fresh and colourful vegetables, a creamy filling and a delicious sauce that makes for a splendid supper to enjoy outside on a warm summer evening from www.wecareyouenjoy.eu
Serves 4 – 6
Level of difficulty: Easy
Preparation time: 35 to 40 minutes
Ingredients
Butter for greasing
1 sheet of puff pastry
1-2 spring onions, finely chopped 
1 clove garlic, crushed 
1 onion, peeled and sliced into rings
2 peppers, de-seeded and cut into small cubes
1 head of broccoli, divided into small florets
1 large tomato, cut into quarters, remove seeds and dice the flesh or 7 cherry tomatoes, sliced in half
2 tablespoons olive oil
Salt and freshly ground pepper, to taste
300g of single cream
3 medium eggs, beaten5 tablespoons grated Manchego cheese
For the sauce:
2 garlic cloves
50g pine nuts
200g of basil
150g grated Manchego cheese
200ml of olive oil
Salt and pepper, to taste
Green salad to serve
Preparation:
Lightly grease a 16cm springform flan tin and line with the pastry.   
Heat the oil in a large frying pan, add the garlic, onions, peppers and broccoli and cook for 3 – 4 minutes or until they are just starting to soften. Transfer the cooked vegetables to a bowl and allow to cool  
Add the tomatoes, cream and eggs and mix all together. Season to taste with salt and pepper and then spread the mixture over the pastry.
Sprinkle with Manchego cheese and place the tart in the oven at 195ËšC for 25-30 minutes.
To make the sauce, lightly toast the pine nuts in a pan and then place in a food processor with the garlic, basil and Manchego cheese. Continue to blend whilst slowly adding the olive oil until smooth. Place the sauce in a small bowl to serve with the tart.