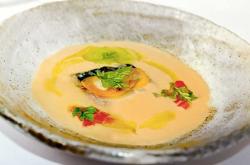 Serves 4
Gazpacho
240g tomatoes
120g cucumbers
20g red peppers
20g green pimento peppers
20g onions
1 clove garlic
10g white breadcrumbs
20ml oil
40 ml water
40ml red wine vinegar
40g mayonnaise
 40g ketchup
Fresh Oregano
Salt and pepper
Escabeche of mackerel
Allow 1 small fillet or ½ large fillets per person
For the salt cure Table salt (enough to cover the fish with 2mm) 1 lemon 1 lime 1 tsp ground coriander Sherry vinegar
For the marinade
1 carrot 1 shallot 2 clove of garlic 200ml olive oil Bouquet garni (ideally consisting of a bay leaf, rosemary, thyme and celery leaves) 2 cloves 1 tsp coriander seeds A couple of slices of lemon 50ml champagne or white-wine vinegar 15ml sherry vinegar 50ml water 5-6 saffron strands 1 tsp tomato ketchup Tabasco, to taste Worcestershire sauce, to taste 
Method
For the gazpacho
Combine all ingredients apart from the mayonnaise and marinate everything overnight.
The following day, place the combined ingredients in a liquidiser, and blend with the mayonnaise.
Season to taste with salt and pepper.
If a finer texture is desired, pass through a fine sieve.
For the escabeche of mackerel
Make a cure by placing the salt in a bowl, and finely grating the lemon and lime zest over it. Add the ground coriander and mix. Now spread some of the salt mix over a tray or plate, large enough to hold the fish in one layer. The salt should have an even depth of about 2mm.
Press the mackerel fillets, skin side down, onto the salt. Sprinkle with a little sherry vinegar, then press more of the salt over the fish, so that the fillets are completely covered. Let stand for 30 minutes, then thoroughly wash the salt off the fish. The fish can then be set aside, in the fridge, until needed.
To make the marinade for the fish, slice the carrot, onion and garlic as finely as possible, keeping them separate. If you have a mandolin, use this, but please mind your fingers! Heat 50ml of the olive oil in a large casserole dish, over a low to medium heat. Add the carrots and cook for 5 minutes.
Then add the onion and garlic, and cook for 10 minutes more. The carrot should be cooked, but have a little resistance. To the dish, add the bouquet garni, cloves, coriander seeds, lemon slices and the vinegars. Simmer for 5 minutes, then add the remaining olive oil, water and the saffron, and cook for a further 10 minutes.
Finish by adding the ketchup and a few drops of Tabasco and Worcestershire sauce. Cook for 5 more minutes, then remove the pan from the heat and allow the marinade to cool to room temperature. Heat a nonstick frying pan and place the mackerel fillets in it, skin side down. Press lightly on the flesh for about 10 seconds, then remove from the pan.
Place the fillets, flesh side down, in the marinade and leave for a couple of hours. To serve, pour the chilled soup in to bowls and place a fillet of mackerel on top with some of the escabeche garnish. Drizzle a little of the escabeche oil around and serve.