Some fine recipes from the reissue of Lindsey Bareham's book The Fish Store Crab Bruschetta,  Lemon and Garlic Chicken Kebab and Strawberry Galette with clotted cream.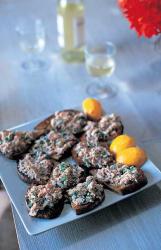 CRAB BRUSCHETTA
Serves 4
So moreish and great with chilled white wine on a hot summer evening.
1 red chilli
approx. 200g dressed crab, preferably with some chunky white meat
1 tbsp lemon juice
6 tbsp olive oil
2 tbsp finely chopped coriander
Maldon salt and black pepper
4 slices sourdough bread
1 big garlic clove
Trim and split the chilli. Scrape away the seeds, slice into skinny strips and then into tiny pieces. Stir the chilli into the crab. Add half the lemon juice and stir in 4 tablespoons of olive oil in a steady trickle. Stir in the coriander, season lavishly with black pepper and lightly with salt. Taste and adjust the seasoning with more lemon juice. Toast the bread, rub one side vigorously with peeled garlic and dribble with the remaining olive oil. Spread the bruschetta with crab. Cut the slices into quarters and serve.
LEMON AND GARLIC CHICKEN KEBABS
Serves 4–6
The standard marinade for chicken or lamb kebabs. Good with just about everything. For a change, add a fold of sliced chorizo and squares of red pepper between some of the pieces of chicken.
800g boned chicken
2 large garlic cloves
salt
2 sprigs of thyme
1 tbsp lemon juice
3 tbsp olive oil
Slice the chicken into kebab-sized pieces. Peel the garlic and chop. Sprinkle with salt and use the flat of a knife to work to a juicy paste. Transfer to a suitable container that can hold the chicken. Add the thyme, stir in the lemon juice and then the olive oil. Mix the chicken into the marinade, stirring to coat all the pieces thoroughly.
Cover and chill for at least 1 hour and up to 24 hours. If cooking the kebabs over barbecue coals, ensure the coals are covered with white dust and thus ready for the cooking to begin. If using a griddle, place it over a high heat and leave for several minutes to get very hot.
Meanwhile, thread the chicken on to skewers, shaking off excess marinade. When coals or griddle are ready, lay out the skewers and cook for about 3 minutes anside, turning as the chicken forms a thick golden crust. Continue to cook all the surfaces. Take care not to overcook.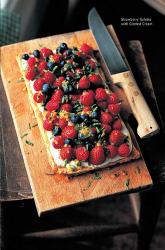 STRAWBERRY GALETTE WITH CLOTTED CREAM
Serves 6
My mother was friendly enough with our local baker, a fierce lady called Tessa Battle (no prizes for guessing her nickname), that she occasionally gave us slightly bashed-up pastries and cakes unfit for sale in her quaint little bakery-cum-tearoom. My favourite was strawberry millefeuille and this super-simple tart is distantly related, giving the same sublime combination of light, crisp pastry and strawberries muddled up with lashings of cream. It can be made to whatever size or shape you like and is a usefully hassle-free dessert for a summer party.
icing sugar
knob of butter
250g puff pastry
750g small ripe strawberries
250ml clotted cream
25g toasted almonds
Pre-heat the oven to 400°F/200°C/gas mark 6. Dust a work surface with icing sugar and roll the pastry thinly to fit an oblong approximately 25 x 30cm. Liberally butter a baking sheet and lay out the pastry. Prick all over with the tines of a fork, dust with icing sugar and cover loosely with a double fold of greaseproof paper.
Bake for 10 minutes until the surface is brown and semi-risen. Remove the paper, cook for a further 5 minutes, then use an egg slice to flip the pastry. Press down to flatten and return to the oven for a further 5 minutes until flaky and golden. Flatten the now thoroughly cooked pastry again if necessary. Slip on to a cake rack to cool completely.
Meanwhile, rinse the strawberries, shake dry and remove the stalks, cutting them out with a small, sharp knife, cutting at an angle aroundand under the stalk, to remove a small cone, turning the strawberry rather than the knife.
Spread the cream thickly over the cold, crisp pastry, going right up to the edges.'Plant' the strawberries on top. Sprinkle with the almonds and dust with icing sugar. Serve in chunky slabs.
NB: This tart can be assembled up to an hour in advance but to avoid the almonds going soft, add them just before serving.