If you're reading this at all, there's a very good chance that you, like us at Foodepedia, like nothing more than a festival were the headliner is not some shoe gazer-type, but a fantastic culinary jamboree of different tastes, smells and choices.Luckily, in England we have some of the most eccentrically diverse regions around. From renowned festivals such as Ludlow to the lesser known gems like the Isle of Wight's Sweetcorn Fayre, these are the food festivals worth travelling for.
Brand new: From Patch to Plate
New for this year is the Taste of Autumn Food Festival by the Royal Horticultural Society. Taking place across four RHS gardens, the Taste of Autumn Food Festival will feature an array of local artisan pr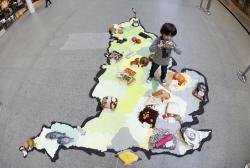 oduce and TV chef James Martin, botanist and Gardeners' World regular Pippa Greenwood, and chef and food writer Rosemary Moon will be on hand to entertain the crowds. The festival takes place 12 -13 October at Hyde Hall in Essex, Rosemoor in North Devon and Harlow Carr in North Yorkshire. Between 16 and 20 October, the event will be hosted at RHS Garden Wisley in Surrey. Celeb-Spotting Fully-fledged name dropping is the order of the day as the list of famous faces appearing at foodie festivals this autumn continues to grow.Starting with Taste Cumbria, celebrity chefs Paul Rankin and Aldo Zilli will be charming Cockermouth with their culinary charisma between 28 and 29 September. In addition, much loved local Simon Rogan will once again bring back his pop-up, L'Enclume – this time with two Michelin stars to its name. Then beginning the baking bonanza, Mary Berry will headline Malvern's Autumn Show from 28 to 29 September.  Appearing as a special guest at the Three Counties Showground in Worcestershire, Berry will be sharing her top tips for delicious family cooking. Paul Hollywood, also of Great British Bake Off fame, will show off his pastry skills at this year's Flavours of Herefordshire Festival  which takes place between 2 and 3 November. A must for fans of the best baking show on the box.
Protected produce Granted a PDO (Protected Designation of Origin) for its delicious delicacy, Leicestershire's town of Melton Mowbray hails its eponomous pork pies in a Food and Drink Festival of its own. Held over 6 and 7 October, the rural capital of food and drink lays down stalls in their hundreds to offer all things edible, drinkable and delectable.  Not only can you grab a mouth full of pork pie and cheese but tables are furnished with exotic meats such as ostrich and zebra as well as Iranian culinary dishes – a nod to the area's bustling multicultural community.
Urban Treats London celebrates Urban Food Fortnight until 29 September. For two weeks there will be ultra-local menus from some of London's top restaurants, pop-up events, supper clubs in growing spaces and allotments, botanical cocktail nights, foraging walks and urban cookery classes. Up north, Manchester celebrates its own Urban Food and Drink Festival with events all over the city from 26 September to 7 October. From street food at Albert Square to an indie wine festival in Manchester Town Hall, there's bound to be something for all to enjoy. Get Cooking What began in 2007 as a humble food festival has quickly grown in popularity and become one of the UK's best. The well-known Aldeburgh Food Festival will return to the Suffolk town on the weekend of 28 and 29 September, cooking up a host of fringe events celebrating Suffolk produce, the land and people who produce it. Pick up a few tricks of the trade at the sausage, bread, cheese and pasta workshops, and the chocolate, biscotti, and cake making sessions should please those with a sweet tooth.
By the Sea  Shock your senses and head down to Rye for Wild Boar Week (26 October to 3 November) which pays homage to the town's local delicacy. Hunted to near extinction in the 17th Century, surviving boars continued to breed in Kentish farms leading to dramatic increases in the last 20 years. Curious customers can sample the beasts of Udimore alongside other mediaeval dishes during the festival. Head west and learn pasty crimping techniques at the 10th Cornwall Food and Drink Festival. From 27 to 29 September, Truro's Lemon Quay will transform into a foodie heaven for three days of eating, drinking and entertainment.
Weird and Wonderful  The Isle of Wight's annual Sweetcorn Fayre takes place in Arreton Old Village from 28 to 29 September. Head over to Dinosaur Island to take part in the sweetcorn shindig and witness world record breaking attempts to create the largest sweetcorn fritter. On the mainland, learn how to smoke herring whilst being serenaded by shanty singers at the Hastings Herring Fair between 9 and 10 November. And if you can't wait for Halloween, check out the Spalding Pumpkin Festival which falls in the first week of October. The week-long celebration of local horticulture and harvest includes an annual pumpkin lit parade led by the Flower Queen upon the pumpkin coach (!) as well as new additions such as pumpkin throwing competitions in true eccentric English style. Wild Boar Week in Rye and Melton Mowbray's food and drink festival can both be reached from St Pancras. The station is home to SOURCED – the UK's first produce market to be located in a train station. Later this month (23 – 29 September), Visit Kent will be showcasing a Garden of England pop-up outside SOURCED, tempting passers-by to sample Kentish produce. 
For more foodie inspiration, visit www.visitengland.com/eat