{YouTube:3dk9rQnil4s}
In partnership with the London Restaurant Festival, American Express will launch BritDish on 9th October. This one-off event will showcase five master chefs including Nuno Mendes, Bruno Loubert, the River Restaurant, Angella Hartness and Vivek Singh as they reinterpret some of Britain's most well-known dishes for Sunday lunch.
Held at The Cinnamon Kitchen, Vivek Singh's Masterclass demonstrated how to prepare and cook his favourite dish from the BritDish menu. Vivek's re-imagining for the BritDish event will include a Scotch Egg using a quail egg and kofta, Fish & Chips (spiced halibut with mustard peas and tandoori wedges) and a Treacle Tart (a carrot-ginger halwa tart with black cardamom ice cream).
I was daunted by the lights, camera and sound equipment, today our culinary deficiencies were going to be recorded for all to see. The anxiety was high as we watched the crew adjust and readjust the equipment in the vast dining room of The Cinnamon Kitchen. We took our seats at a long bar at the end of the dining room, where there was a spread of colourful and fragrant produce. We sat poised and waiting while Vivek did his intro. Then working around the crew as they hovered with their cameras, we began preparing the tandoori potato wedges.
Despite the fact that I have a decent level of kitchen proficiency, I felt like a complete novice in Vivek's presence. Our first task was to hollow out a potato that would later be stuffed and roasted in a tandoor oven. He made it look so easy, but when it came to my turn I felt so incompetent compared to Vivek's deft hand. I ended up putting a hole in my potato. It did not go unnoticed.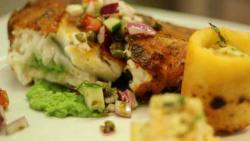 Cooking Indian food, as with most Asian cuisines, involves lots of preparation, and today was no exception. I found redemption through my ginger-dicing prowess with an impressed nod from Vivek as we shuffled awkwardly down to the blender where he would make his version of mushy peas. This puree of peas, ginger, garlic, green chillies, salt, sugar, lime juice and mustard seed oil would be rolled and frozen for later insertion into a fillet of halibut. One taste of the bright green puree and my appetite quickened. The flavour was intense and the resemblance to wasabi was uncanny, thanks to the clever use of chilli and mustard seed oil.
Vivek explained 'My mother used to make this pea chutney. We ate it on meat, with naan it went on everything.' I asked him if he used his mother's cooking methods much in his menus. ', I never used to think much of my mother's cooking, ' he replied, 'but lately I have been using it more and more.' Vivek draws inspiration from all parts of India and he has an abundance of knowledge of the traditions of his homeland. Onion seeds, he points out, brings warmth and drama to a dish and he prefers to use coriander stalks instead of the leaves for their intense flavour.
The potato barrels were deep-fried, a gigantic piece of halibut was filleted and I chopped raisins, dried fig and cashews. We all sliced, diced and deep fried while Vivek supervised and the cameras rolled. Before we knew it, it was time to stuff and batter the fish and fill the potatoes with a decadent mix of fruit, nuts, ginger, chilli, paneer, herbs and seasoning.
We marvelled at Vivek's capable hands as he plated up the food he is famous for. Mouth watering aromas and the vivid colours and presentation of the dish demonstrated the genius of Vivek's version of fish and chips. The halibut sat plump and juicy in the crispy, orange batter that perfectly complemented the streak of bright green mushy peas running through it. The potato wedges, blackened from the tandoor were light and flavoursome and sat next to a serving of caper kachumbar. The flavours and texture burst with freshness and spice going beyond any fish and chips or Indian dish I had ever tasted.
Read Vivek's recipe for Amritsar spiced halibut with mustard mushy peas, caper kachumbar and tandoori potato wedges.
Buy tickets to the London Festival's American Express BritDish event.
---
Vivek Singh, founding chef of the Cinnamon Club, is one of the five acclaimed chefs involved in American Express BritDish, a landmark culinary event at this year's London Restaurant Festival that treats diners to a menu of traditional British favourites, each with a unique twist.
Vivek has put his own special stamp on British classic fish and chips and has created the exquisite Amritsar spiced halibut with mustard mushy peas, caper kachumbar (an Indian salsa) and tandoori potato wedges.
Exciting cuisine from around the globe has inspired each of the BritDish chefs to develop their unique menus, and during the London Restaurant Festival, American Express wants to know what inspires you about food as part of the Amex Be Inspired programme. For more information and to take part, visit amexbeinspired.com / #amexbeinspired