Watergate Bay Hotel On The Beach Watergate Bay Cornwall TR8 4AA hwww.watergatebay.co.uk/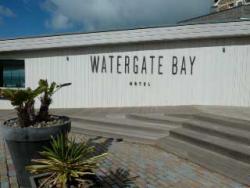 A squally Atlantic with overhead skies turned a sudden leaden hue. Almost like the Shipping Forecast, Cornwall's weather raced from gusty wilds to a golden sun, did a Cromarty here, a cyclonic FitzRoy there and I was transported back to a coast of rum smugglers, wreckers and Jamaica Inn.
But that is TV and radio drama. This was the stunning Watergate bay, a spectacular spot of Cornish coastline whose giant waves are perfect for surfers, walkers and romantics. And the only contraband here was the overgrown surfing dudes trying to pass as being still in their 20s.
Watergate Bay is a strange but successful hybrid – a one-time Victorian hotel perched on the side of a cliff but adapted into a surfers and ocean-lovers retreat.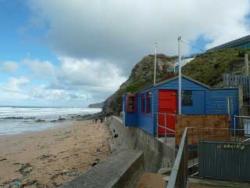 It's all vast spaces and windows onto the ocean, pastel blues, tongue and groove, and laid-back surfer chic. Its guests look like grown-up surfers now in their late 20s, 30s and 40s but with coolly-dressed blond kids in tow.
It's relaxed, lively and there seem loads of great lounge spots next to vast floor-to-ceiling windows where the splendid Atlantic breaks before you. It also seems like the best strapping, country estate human stock is here; I must admit I felt a little, ahem, little.
The place has just relaunched its flagship restaurant, Zachry's, which was the main reason we had come. The space beautifully captures the ocean light with floor-to-ceiling windows onto the Atlantic (OK, via a car park), and zig-zags of zinc, black and white tiled chevron floors and tan leather banquettes.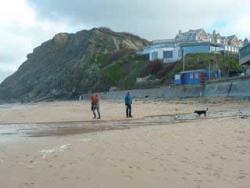 But it couldn't look more different at night-time. From the black, blue and cream beachy breakfast room in the morning, evening transforms it to a sedate, dimmed and peach-coloured affair.
The menu is generally formal European but with some cheeky. For instance, crispy rock shrimp with KP spicy mayo is a take on dynamite shrimp and a bit like a prawn cocktail on its bed of peas and little gem. But its surprising slick of white truffle oil finishes it excellently and makes for a fun starter. The charred octopus in haricot beans with chorizo and rocket – more traditional – relishes in a smoky, porky intensity although some of the octopus flavour was overshadowed by chorizo when we tried it.
"We don't want it to be fine dining or casual, but interesting," says head chef Neil Haydock who oversees all of the hotel's three restaurants – The Beach Hut, The Living Space and this newest restaurant Zacry's. I'd say it's more fine than casual but being in a hotel, you can sling in with informal clobber and it's kind of OK.
Haydock's influences are very much American, he says, a country he adores. He cites restaurants such as Le Pigeon in Seattle and Yardbird in Miami as favourites. He is also arranging swappsies with guest cheffing to take place later this year.
But he also sees the menu as international with ingredients from all over; shrimp from the Mexican gulf; Greek and Spanish delis for their fetas and chorizo; Kernow Sausages for pork and bacon; Rosedown eggs; and Angus Trotters Butchers.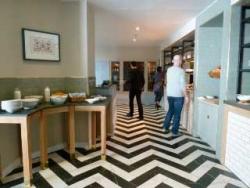 Of course, we wanted something sourced locally so I went for Cornish venison, dauphinoise, kale, carrot puree and juniper sauce. The venison was cooked faultlessly, with the texture of raw beef but I struggled to taste the juniper. Haydock says the sauces are very subtle – I'd agree – apart from the reform sauce: 
Lamb chump with boulangere potatoes, spinach came with reform sauce, in this case, too powerful. It's a traditional recipe from London's Reform Club that contains gherkin, beetroot, tongue and mushrooms – an unusual and exciting taste – and probably all about subjective taste in this case. The dish overall was, like the venison, well-executed although the meat was more well-done than promised (not a problem for A who loves his meat cindered and tindered).
The wine list is relatively small but offers a spread of international grapes and in accordance with a surf hotel, a high ration of antipodean ones. Our Australian Running With Bulls Tempranillo 2011 had a high tannins and quite a cinnamon swirl.
Technically, Zachry's does well. Our desserts, which included a pistachio cake, vanilla mascarpone, plum and poppy seed tuile, were also well-made and not exactly casual but priced reasonably at £7.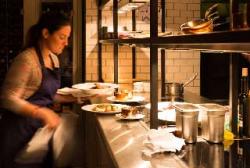 The Beachhut
Breakfast was a pleasure at Zachry's – which converts back to hotel breakfast room in the morning – my favourite being the waffles you make yourself in a cast iron contraption that emerge aired and fluffed.
The new open kitchen means the buffet is served directly from the kitchen counter – nothing worse than flayed and wilted prosciutto or the last bread roll languishing on many a breakfast bar.
At the bottom of the hotel, further away, stands Jamie Oliver's Fifteen Cornwall, (not part of the hotel), reviewed here:
On the sands and neareris Watergate Bay's casual dining affair, The Beach Hut. This, like the rest the mini-complex, has a washed-out, pale, blue-and-white Clinker décor with surfboards on the walls and athletic staff with surfboard bellies.
The clientele is relaxed in outdoor and seasport gear – families, lots of dogs, kids haring around, with the aura of dressed-down wealth. Food is mainly burgers, seafood and steaks – seashack stuff.
A was pleased with his mackerel pate on toast as it was unadulterated with
cream cheese, and the portions, such as that of my Cornish crab soup – were
generous. But the food wasn't standout – not as good as Zachry's. The view, however, from here straight onto the beach, was fantastic. We watched ferocious breakers taunt novice surfers with pleasure.
The thing really is to spend a bit of time here at Watergate Bay and integrate the food with the lovely experience of Cornish coast, turn your romantic head on. It's a treat.
Watergate Bay's Taste Of The Bay:
Prices start from £297 per person in a Standard House room based on two people sharing a room. Runs until Wednesday 21 May, then Sunday 1 June – Tuesday 1 July.
The offer includes:
A three-night stay on a B&B basis.
·       Dinner in Zacry's
·       Dinner in The Beach Hut.
·       Dinner at Jamie Oliver's Fifteen Cornwall.
Call 01637 860543 or book online.