9-10 Arcade Liverpool Street, City of London, EC2M 7PN  www.ekachai.co.uk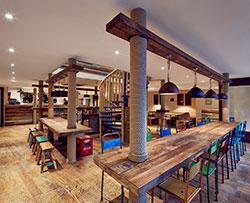 It's seven in the evening on a dark and cold Tuesday, and I find myself in an odd situation. I'm in a decidedly Oriental environment, surrounded by bamboo and rope-wrapped pillars. The music, however, consists of track after track from the videogame Grand Theft Auto: Vice City. Don't think of suggesting I'm mistaken. A childhood made up in no small part of Kung Fu films and Playstation prepares one admirably for the interpretation of such subtle cultural references.
The location for this bizarre marriage of East and Western videogames is Ekachai in Liverpool Street. There are three Ekachai's in London and the far eastern one has just been refurbished. Never one to pass up on Asian food I ambled down with a friend.
The interior is, as you've no doubt gathered, very much of an Oriental bent. Whether it's authentic or geared towards Western stereotypes I couldn't tell, though I suspect it leans towards the latter. Nevertheless, it's a comfortable place to be. Colourful and welcoming, it has the feel of an Asian canteen.
A starter of prawn and crab Siu Mai dumplings kicks things off on the right note. The meat is firm and fresh and the dumplings are well made. There are four, which you'd never find in a dim sum restaurant as the number is considered unlucky; there they'd come in threes or fives. I'm not one for superstition however and find it a good portion. If I had to find fault than there could have been a little more seasoning or spice, but otherwise they were a solid starter.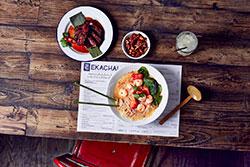 My companion goes for Vietnamese summer rolls. They're the typical rice paper rolls, stuffed with vermicelli noodles, prawns and salad. She comments on them favourably and they certainly look good enough, with a sufficiently delicate exterior and a generous prawn filling, which I'm assured tastes firm and fresh. A promising start then.
The salmon fish curry I have for my main is disappointing, however. It's a good red curry, well-spiced and piping hot, and the salmon is well-cooked and plentiful. Unfortunately it's oversalted to a staggering degree and feels like drinking seawater, a shame as it would have been perfect otherwise. I eat most of it anyway though I'm sure my blood pressure isn't thanking me now.
The accompanying coconut rice is cooked well and presented in the way you'd typically find at a Thai restaurant: moulded into an upside-down bowl shape. The garnish of coconut shards gives a pleasing change of texture.
R seems to enjoy her char kway teow (rice noodles with egg, chilli, soy sauce, bean sprouts, chives and prawns), describing it as a "pleasing, Pad Thai-style medley of flavours." The potions in each case are plentiful and represent good value for money.
To drink, we have a mango lassi and a something described as'green juice', which the menu tells us consists of cucumber, apple, celery and green peppers. Both are unremarkable and lack flavour, and the lassi doesn't match the one I had just a few days prior at Namaaste Kitchen in Camden.
Ekachai in Liverpool Street, then, is a very nice place to be. It serves up generally solid, well-priced pan Asian food, but a few niggles here and there let it down somewhat. I'd like to see them sorted out. Asian food done well is a wonderful thing. There's solid skill here, but the little mistakes add up. I'd like to see them ironed out, which would bring Ekachai up to the level it deserves. Then I'd certainly come back, and not just for the nostalgic value the space brings.