Cooking time: 25 mins
Serves: 15
Recipe by Lily Vanilli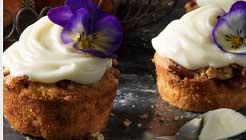 Delight in these sweet, soft and moist muffin cakes – perfect for those with a sweet tooth and using new Lurpak Baking Butter
Instructions
Preheat the oven to 180°C and grease tins generously with Lurpak® Baking.
Sift together the flours, spices, baking powder and salt.
Beat the Lurpak® Baking and sugar together in a mixer until light and fluffy, starting on a low speed, gradually increasing to high. Add the eggs and continue to beat on medium speed for 2 minutes.
Slowly add the dry ingredients until it forms a thick, smooth batter, fold in the nuts, banana pulp, and divide mixture between tins to fill.
Scatter the top of each cake with pecans, and bake on the middle shelf for 15 – 20 minutes, or until a skewer comes out clean when inserted in the cake's centre. Leave in the tins for 10 minutes then turn out onto a wire rack to cool.
Pipe a dollop of icing on top of the cake (optional), then top the cooled cake with some edible flowers, coconut pecans or banana chips.
find out more about Lurpak Baking Butter
Ingredients
270g plain flour
½ tsp. grated fresh nutmeg
½ tsp. cinnamon powder
â…" tsp. baking powder
200g Lurpak Baking
220g caster sugar
2 large eggs
70g pecans, roughly chopped, plus extra to top
330ml pureed very overripe banana (pulped by hand or use a blender to puree)
To top:
15 whole pecans
Cream cheese frosting (optional, see separate recipe)
Seasonal edible flowers (optional, to decorate)
Banana chips (optional, to decorate)
Dessicated coconut (optional, to decorate)