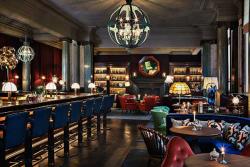 I have to say I've never been much of a fan of Gerald Scarfe seeing him as a less witty, more simplistic, version of Ralph Steadman. And then there was Pink Floyd's The Wall..
But hey this isn't art class and I'd been meaning to go to Scarfe's Bar for a long while. Online glimpses of the interior, surely a Conservative cabinet minister's idea of how heaven should be furnished, only made me keener. All that plush leather and plump cushioned sofas is this middle-aged man's idea of how a bar should be. I don't want to sit on a bench and drink out of a jam jar anymore; come to think of it I don't think I ever did.
Grand revolving doors tumble you into the interior and it's very impressive in the flesh if, as I say, you like that kind of thing. A wood fire, (gas powered) burns in a massive fireplace that may or may not have been there when this was the Edwardian Pearl Assurance Company building headquarters back in 1914. The whole place is now Grade II-listed, quite rightly.
The fire certainly adds heart to the space and all around on the walls are hanging Scarfe's works, his caricatures of politicians of both sides of the divide. Most are recognisable and there is certainly some happy wit there to enjoy as well as penmanship to be inspected close-up.
The food here is only served in quantity at lunch, otherwise it's snacks, and the short menu is a mix of Indian and Anglo thanks to Chef Palash Mitra previously of Cinnamon Club. Bound cocktail menus are proffered by a bar team who have a pleasant mix of affability as well as professionalism, and as you sink into the seats you'd have to be a curmudgeon or a sashimi socialist not to feel at ease.
Not usually one for cocktails I sink one anyway, seduced by the surroundings – 'Thyme Out –  a mix of Bombay Dry Gin, Chartreuse Yellow, Lemon Juice and Thyme dashed with Orange Bitters shaken hard' – and so am I when I see the price. Very pleasant, but ouch…
Kheema Boti Masala Pav, Kachumber starter served in a silver karahi is stunning. Sharp, sour flavours all over lamb mince in  chopped tomatoes, cucumbers, onions and a dash of chili, all lapping against a perfect lamb chop that's chewable to the bone and beyond. The brioche -y bun serves to mop any remains of sauce,
Baby gem, chicory, duck breast and egg for J is, he reports, fine – everything is cooked just so and the poached egg properly round and ready to pop. He's happy with the bitter chicory against the pink breast and with the yellow yolk that soon combines it all, but not as excited as I am about my own starter and I feel a little guilty. He has dish envy.
I get that feeling next, thinking to try both sides of chef I have the game sausage, lentils and red wine stew which comes in a cast iron pot ready to be ladled over a beached whale of creamy mash. It's a good stew, the sausages dense and well browned off. A bit like J, ho ho. These play well against the lentils with their mealy al dente bite and the red wine sauce is tart on the palate. It's not stunning but casseroles are not flashy show offs but honest workers and this one is white collar.
For mains J has an Indian choice; pan-seared bream with Kerelan curry sauce. Kerela is a place of coconut and fish, with liberal use of tamarind to create sour sweet flavours and this dish has all of those. Another fine goal for the Indian team. The Punjabi Dal Makhani is dark and buttery and, J admits, unnecessary given he has rice already. He's over ordered badly, so I eat some to make it less embarrassing when the plates are cleared. I do love a good dal.
J goes off to find the gents and returns dazzled by copper, marble and rows of antique books.'They've really pushed out the boat decor wise,' he observes, regaining his seat. Dessert of chocolate pot de crème is very chocolatey and a bit too rich for me, but then I am not a great chocolate eater anyway. Coconut rice pudding and mango is much more the ticket; cooling and sweet.
Without drink we've done about £70, which for the room and the food I'm happy about. Service was on point and the Indian dishes really well above average, with the European ones sound and satisfying, if not exactly exciting. If I were in charge I'd push the Indian side more.
So did I like Scarfe's Bar? Well I think you can'draw' your own conclusions.