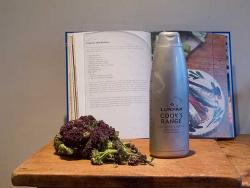 Have you seen the Lurpak TV commercial for their new Cooks' Range? As usual with Lurpak it's superbly shot and light years ahead of the competition's efforts and shows real empathy with its consumers. It's a mystery why Country Life chose John Lydon to advertise their buttery brick.
If you think I sound like an adman, well that because I was. I won't bore you with the list of TV commercials I wrote, all pretty much forgettable, but there were a few.
Anyway the ad campaign, based around the concept of'adventure in the kitchen', ties in with a PR push, as these things tend to do, and we received our samples of the new range just as so many people did.
Now there's nothing at all wrong with Lurpak, it's a good butter and these new products take it a bit further. Last week we tried out the Clarified Butter and this week, as if our arteries weren't clogged enough, we tried the Cooking Liquid.
It's not exactly a mouth-watering name, it has to be said, but that's hardly important. It's what's inside that counts. And what's inside is Lurpak butter and vegetable oil combined into a state that stays liquid even in the fridge. As any cook knows, if you try and heat butter on its own in a pan it will brown and even burn. The way to prevent this is to add some oil at the same time. The trouble is getting the ratio right; too little oil and the butter browns, too much and you lose the glorious buttery taste.
This Cooking Liquid is perfectly balanced. It comes in a squeezy bottle that fits nicely into the fridge door, simply aim at your pan and fire. It makes a noise that sends small children into fits of giggles and creates a puddle in the pan that makes adults snigger. On a strong heat it's soon ready to use and even if you walk away it won't burn unless you really want it to I took some fresh Swiss chard from the allotment, shredded it and tossed it in hot Cooking Liquid.
The heat made the chard wilt immediately and when I pulled some out to try it had a good al dente bite and was infused with glorious butteriness. We ate it piled in verdant profusion on the plate and dotted with lightly crushed black pepper along with some pan fried strips of chicken.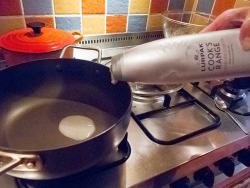 Some home -made fishcakes – haddock, potato, garlic and chilii – took on a golden crustiness very quickly and again that buttery taste. I would have usually used oil of course, but it's a fact that with this cooking liquid so handy to use I found myself being, yes, more adventurous.
It made my fried eggs as tantalising as Milo Minderbinder's eggs that helped him bomb his own airbase and make a profit that quelled all complaints (Catch 22), they snapped enticingly as they cooked and the edges singed up to a compelling crispiness. The taste of butter fried egg on toasted sourdough is a weekend treat.
Olive oil is my usual choice for Sunday's roast spuds, in a blind test we did a while back all three judges preferred olive oil. The Cooking Liquid though gave the spuds a great golden crust and no burning occurred, we also massaged a bit of the oil into the chicken which sorted the skin out a treat.
Just having the bottle in the fridge is an enticement to be adventurous and to try using it with almost everything you would normally use oil for. Curries for example benefit from the'ghee-like' butteriness the liquid brings to the sauce. Lurpak have created a range of recipes that make the most of their new Cooking Liquid and we have one here
Find out more about the Lurpak Cooks Range